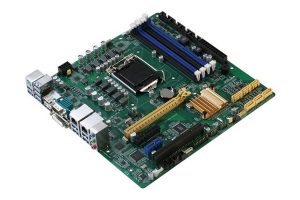 Withstanding: NEMA Ratings and the Rugged System
Published on:

Published in:
Blog
A quick experiment: think about some of the industrial computers that a company uses for their everyday functions. Where is that electronic device being placed? Is it used indoors, on a dusty warehouse floor?
Or is it exposed to the elements in challenging outdoor environments? The real poser is: how do you know that the components that drive these computers are being kept safe, no matter what the conditions?
It's a significant problem, not only for companies looking to buy these electronics, but for the OEMs that have to assemble and sell them. Understanding the rating standards for these rugged system enclosures is necessary to ensure provision of what the customer needs.
What are NEMA Ratings Standards?
One of the most stringent and widely tested rating standards for rugged systems is the NEMA, a.k.a. National Electric Manufacturer Association rating spectrum. It was created as a way for suppliers and OEMs to understand the relative protection that an enclosure will provide a rugged system. These range from windblown dust to full liquid submersion, and even to explosion proofing. Having a good grasp on what these standards mean is highly important when creating a rugged system.
The full specifications for the NEMA rating system are available in multiple places on the Internet, so writing them out verbatim would be overkill. Instead, here is a condensed version to get a basic understanding of the system's usage:
NEMA 1 and 2 deal with falling debris and light water protection
NEMA 3 and 4 protect against different facets of weather, with variants dealing with windblown dust, corrosive materials and water pressure
NEMA 5 involves a completely dust-proof enclosure
NEMA 6 and above start to deal with the more intensive protective measures, such as water- and dust-tight sealing and explosion proofing.
How do NEMA Ratings Affect Rugged System Sellers?
If a rugged system has to function properly in a specific environment, it needs to meet these NEMA standards. There are other rating systems, such as the Ingress Protection or MIL-STD (also known as the Military Standard). NEMA walks a line between these two standards; it offers a greater degree of testing than IP, but does not adhere to the stringent military expectations. It is a perfect fit, however, for the industrial sector.
The NEMA rating system allows peace of mind for OEMs, knowing that they can effectively relay information about a product to their customers. Having an understanding of NEMA is necessary to being a full-service OEM, with comprehensive product knowledge.
Brian Luckman is the President of New Era Electronics. He has worked in the industrial OEM market for over 25 years, serving a variety of different industries, gaining a strong reputation for his expertise and a thorough understanding of how to properly service OEM customers. In 2000 he began New Era Electronics and the company continues to grow. He's a husband and father and enjoys exploring the outdoors.
Creative Commons Attribution: Permission is granted to repost this article in its entirety with credit to New Era Electronics and a clickable link back to this page.