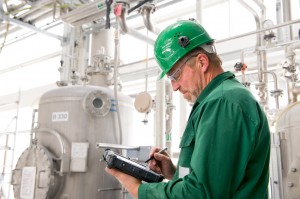 Advantages of a Rugged Tablet Computer
Published on:

Published in:
Blog
Tablets are now a sought after commodity in the electronics trade, with features and functions that can typically replace those of other devices, such as laptops, desktop PCs, MP3 players and, for some models, even a mobile phone.
In general, there are three kinds of tablets available on the market: the convertible, the slate, and the rugged tablet. The slate is the flat topped tablet that we all know and love, and the convertible is a hybrid between a slate and a laptop. In terms of form, the rugged tablet computer is the type of tablet which lends itself best to frequent and prolonged use in strenuous and extreme conditions.
A rugged tablet computer is shaped like a slate, so the screen has no covering. However, given its descriptive name, it is very durable and designed to withstand extreme temperatures and conditions, as well as rough handling. This is due in part to the protective casing that comes with the product, as well as the shock-proofed hard drive in the system.
Portability – The portability of the rugged tablet, designed to meet the demands of workers who need to use their computer while standing up and carrying it to various locations, is what makes it stand out compared to laptops. The attractiveness of this feature is enhanced by the number of features and built-in components that can be found in most rugged tablets. Models of rugged tablets can vary in size, with some being as small as 5.3" x 8.5" x 0.85"and as light as 1.2 pounds, making them the ideal hand-carry device.
Longer product life span – Considering its durability, a rugged tablet computer ensures a longer lifespan, since it can withstand tough situations. This includes having a full IP-65 rating to protect against moisture and dirt. As a result of its flash drive and sturdy construction, it can also withstand shock in extreme working conditions. Other models of tablet PCs have a higher percentage of failure rate compared to rugged tablets, making the latter ideal for those who depend on a functional computer in the field or in harsh environments.
Efficient and clear screens – A rugged tablet's screen is good in poor visual conditions, because the display technology is able to adjust to the situation. Be it a humid warehouse or a dry and bright desert area, you can be certain that a rugged tablet will have a clear display screen to fulfill your on-the-spot mobile technological needs.
Built-in features and add-ons – The hallmark of tablets is the availability of apps and add-ons. Rugged tablets are no exception, and software can be downloaded or designed for just about any purpose.
Increase Capability with Rugged Tablet Computer Features
Rugged tablets are admittedly more expensive than their convertible or slate counterparts, so there had better be enough features to justify its purchase. Aside from its durability, a rugged tablet is designed for use in an industrial setting, rather than a casual one, so the device is already equipped with applications that provide extra services that are handy during specific situations, such as high-speed access to secure Internet connections, RFID technology, bar code scanners and hot swappable batteries, to name a few.
Rugged Tablets Used in Demanding Mobile Environments
The sudden burst in popularity of tablet computers in the past few years is just representative of their usefulness and functionality in a fast paced society. Rugged tablets are just one step further in that direction, by bringing the usage to demanding environments by making them resistant to shock, vibration, dust and a variety of other environmental factors. They might be just the thing you need.
Brian Luckman is the President of New Era Electronics. He has worked in the industrial OEM market for over 25 years, serving a variety of different industries, gaining a strong reputation for his expertise and a thorough understanding of how to properly service OEM customers. In 2000 he began New Era Electronics and the company continues to grow. He's a husband and father and enjoys exploring the outdoors.
Creative Commons Attribution: Permission is granted to repost this article in its entirety with credit to New Era Electronics and a clickable link back to this page.