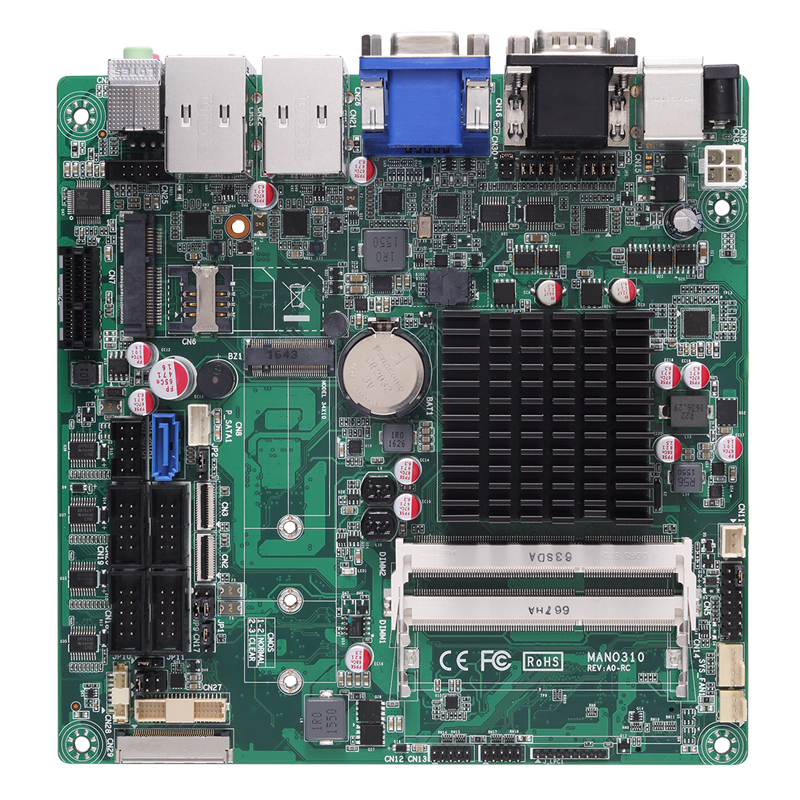 Is It Cheaper to Build or Buy a Computer? Part 2
Published on:

Published in:
Blog
Last week, we went over the pros and cons of commercial off-the-shelf (COTS) computers and barebones computers. This week, I am going to go over a Custom Build from Parts computer and a Custom Designed Computer, and the reasons why someone would prefer these systems for their business.
Building a computer from parts provides a high level of customization but it is less convenient than buying an off-the-shelf computer or a barebone computer. It requires researching all components to ensure compatibility.
In a rough order of importance, selecting compatible parts for an industrial custom build would follow this process:
1. Select the necessary form factor for your motherboard and chassis.
2. Determine what lifecycle is required for each part of this build.
3. Select a motherboard that fulfills the above requirements with necessary I/O and chipset.
4. Select a compatible chassis that fulfills environmental requirements, including fanless operation if necessary.
5. If the processor is not soldered onboard, select a processor that is compatible with the chipset and socket-type of your motherboard. If your system is fanless, make sure that the processor you choose has a low enough TDP for the fanless chassis to be able to dissipate the heat.
6. Select storage compatible with the motherboard. If the ssd is an m.2 module be sure the m.2 is the correct size and key.
7. Select compatible RAM.
8. Select a WIFI card if necessary.
9. If expansion cards are necessary, ensure they are compatible and fit within the chassis. Just because an expansion card is compatible with the motherboard does not guarantee it will physically fit in the chassis.
10. Source any cables necessary to pull additional I/O from onboard headers and expansion cards (if these I/O are necessary).
11. Decide how you will assemble the parts. Either inhouse or outsource assembly to a reputable company that can fulfill your assembly and scheduling requirements.
Building a custom computer from parts is a great way to get a large amount of control over each part that goes into your computer. It's a great way to get a computer that closely fits all of your requirements. It's also a great way to closely regulate the cost of each part, thus achieving the lowest cost.
Unfortunately, this large amount of control does come with a large amount of responsibility. The amount of work required to ensure compatibility of all of the parts, source them, and to assemble the computer can be more than most are willing to invest. One method of circumventing this is to source all the parts from a single source and have them assemble the product. In this scenario, you can achieve the convenience of an off-the-shelf system with the control of a custom system.
Why buy a Custom Designed Computer?
The custom designed computer, of course, offers the highest level of control over the final computer in terms of size, lifecycle, and functionality. It often involves arranging for a custom designed chassis, a custom designed motherboard, or both.
Having a custom designed chassis is useful if you require a chassis with very specific dimension requirements, but you are unable to find one on the market. Additionally, a custom chassis can be designed with environmental factors in mind, such as being waterproof, dust proof, vibration resistant and fanless. The higher the complexity, of course, the more work it takes to competently design and test to ensure it fulfills all requirements. The chassis can also be made to include a custom colour and logo for branding purposes.
On the topic of custom motherboards, if all that is needed is a simple board modification such as stripping down some I/O and functionality, the end result could actually be a cheaper motherboard, though this type of modification demands a minimum order quantity (MOQ). Depending on the manufacturer, the MOQ could be as low as 50 pcs or as high as 500 pcs. 
More complex motherboard modification and customization allows for such things as additional I/O, additional functionality, custom form factors and conformal coating to name a few things. It is certainly the best way to get a product that fits your exact specifications and, indeed, in some niche scenarios it may be the only way to get the exact product that you need. However this is an option that does carry high costs and commitments. A custom motherboard almost always requires an NRE charge to pay for the design of the board, as well as large MOQs for all subsequent purchases of the motherboard. To add to this, there is the cost in time for the development of the motherboard. It can take up to several months to develop the motherboard and then an additional 4-12 weeks lead time to get the boards manufactured. This can negatively impact your final product's time to market.
Which option is cheaper?
If you are looking for a quick answer in this two part article without reading the information on each category of computer, you may be disappointed with the answer as it's not clear cut. It truly does depend on your specific use-case, how unique the computer you need is, and how much time you can afford on research, design and assembly.
But it is possible to summarize the answer at least this far:
If your requirements are very generic, with a bit of research, you can likely find a COTS computer that fits your requirements for a very reasonable cost.

For most industrial applications, a barebone system is the best option as they are easy to research and don't require complicated assembly. You are likely to find a barebone computer that both fits all of your unique requirements AND has a reasonable cost on your money and time.

Building a custom computer from parts requires more time and responsibility on your part but almost ensures that you will get a computer that fits your requirements. This option can usually be less expensive than a barebone system but it is recommended that you outsource the assembly as the inconvenience of in-house assembly will likely outweigh the cost savings.

A custom designed computer is for unique use cases. If your system requires a unique form factor or a unique combination of I/O that cannot be found easily, then a custom designed can be the only option. In some edge cases a custom motherboard can result in a cheaper solution, if I/O is stripped off. In more usual cases, custom designed computers require an up-front NRE charge and have large MOQs. 
New Era Electronics Can Help
Whether you need a COTS computer, a barebone computer, computer parts or even a fully custom designed system, New Era Electronics can help you. Simply contact one of our technical staff, tell them your specific requirements and they will provide you with a solution. Alternatively, you look through our many products and use our comprehensive advanced search function to zero in on the exact product you need.