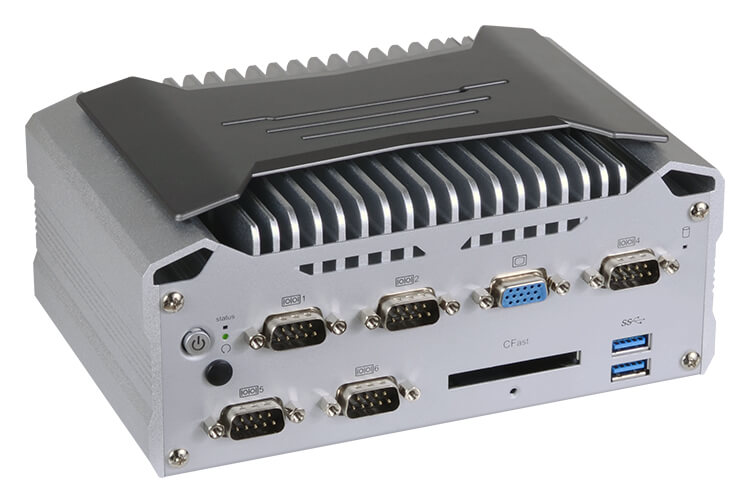 Is It Cheaper to Build or Buy a Computer? Part 1
Published on:

Published in:
Blog
As an engineer or project manager in charge of crafting a product to bring to market, there are multitudes of considerations to juggle. But in the process of New Product Introduction, and even when revamping an old product to bring it up to date, you are likely to come to one perennial fork in the road when it comes to selecting your computer: you must choose between a custom computer or an off-the-shelf computer. There are many pros and cons to each of these options and of course it often comes down to price. So, is it cheaper to build or buy a computer? In this two part article, I will go over the different options businesses have when it comes to industrial computing. 
How custom is "custom"?
Making the decision between a custom system and an off-the-shelf system is actually not as simple as choosing option A or option B. There are several degrees between commercial off-the-shelf (COTS) and custom:
Commercial off-the-shelf

– This is a computer which comes fully loaded, out of the box.

Barebone Computer

– This computer comes with a chassis and motherboard, assembled together. Soldered-on processors are becoming more and more common, so a barebones system can come with a processor. Everything else will need to be purchased separately and added in.

Custom Build from Parts

– All of the parts are vetted for compatibility and sourced individually, including motherboard, chassis, RAM, SSD, etc. After receipt of product, all components are kitted and assembled into a completed system.

Custom Designed Computer

– A system with a custom board and/or chassis. Customizations can be as simple as board or chassis modifications and can be as complex as designing a brand new board or chassis from scratch. This is also called ODM or Original Design Manufacturing.
In the first part of this article, we are going to analyze the pros and cons of commercial off-the-shelf (COTS) computers and barebones computers. I will go over the Custom Build from Parts and Custom Designed Computers in next week's blog post.  
All analysis is from the perspective of industrial businesses which are designing product for use in the field or for the purpose of selling to end customers. Use cases include digital signage, medical appliances, factory automation, kiosks, vending machines, in-vehicle computing, rugged computing, IOT, etc. In contrast with a typical enterprise IT setting.
Why buy a commercial off-the-shelf system?
A commercial off-the-shelf system or COTS purchased fully loaded with every component required pre-installed is certainly an ideal scenario for many businesses. The prospect of being able to buy a system pre-configured with all necessary hardware delivered right to your desk is a very enticing idea. And indeed it is the best solution for a wide variety of use-cases. But care must be taken to ensure this one-size-fits-all system can do everything you want it to do and no unnecessary compromises are made. 
The main question to ask are:
Lifecycle: How long will this exact product be on the market? 5 years? 7 Years? 15 years? Or will it be obsolete in 6months resulting in a quick redesign?
BOM Control: How are all of the internal components controlled? Are RAM, SSD, processor and motherboard liable to change often and without notice? Will Product Change Notifications be issued on all part changes? Is there an option to freeze the BOM so that no potential incompatibilities are introduced by component changes?
I/O: Does the product have all necessary I/O that you require?
Protection from Environment: Does the unit have all necessary environmental protection ratings for your specific use case? Such as appropriate temperature range, shock resistance, water/dust resistance, and fanless operation.
If all of these requirements check out, then you're in luck! You have found an off-the-shelf system that works for your application. This is a VERY convenient option to have. If price is a concern, however, it is recommended to get a price on another COTS product or even a barebones system to compare. Barebone systems can often be sold fully assembled with other needed parts, so they can be just as convenient as an off-the-shelf computer.
A barebone computer is a wonderful middle ground between an off-the-shelf system and building a custom system from parts. Often the most troublesome part of building a custom industrial computer from parts is finding a motherboard that fulfills all I/O, processing and physical size requirements, then finding a compatible chassis that fits that form factor and finally assembling them together. Installing a motherboard into a chassis usually means hooking up all of the LEDs, power button, reset button, and any I/O cables. It's more trouble than a lot of businesses are willing to deal with, which makes barebone computers such a great option since the chassis and motherboard come pre-assembled.
While buying a barebone computer is a bit less convenient than a COTS computer, what it does offer you is a lot more control over the completed system. Once you select a barebone system that meets all of your application requirements, it's a simple matter to procure the other necessary parts such as memory, storage and, if necessary, expansion peripherals.
The other benefit afforded by barebone systems, is that because they don't need to be such a one size fits all solution, you are typically able to find more unique solutions that are designed for specific industries and applications. It is sometimes possible to find industry targeted COTS computers, but they are typically more expensive than their barebone alternatives.
Now that you have all of the information you need about commercial off-the-shelf systems and barebone computers, I can go in depth on the benefits of more custom built systems. Click on this link to read PART 2 of this blog.
New Era Electronics Can Help
Whether you need a COTS computer, a barebone computer, computer parts or even a fully custom designed system, New Era Electronics can help you. Simply contact one of our technical staff, tell them your specific requirements and they will provide you with a solution. Alternatively, you can look through our many products and use our comprehensive advanced search function to zero in on the exact product you need.