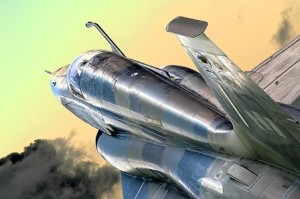 We Are Watching: Display Monitors in Military Avionics
Published on:

Published in:
Blog
Information gathering is one of the most important aspects of the modern military. Gaining as much data as possible before making a decision needs to be standard operating procedure for all departments. Collecting information means having eyes and ears on targets, often without detection. Unmanned aerial vehicles, or UAVs, have become the metaphorical name of the game for reconnaissance.
Furthermore, fighter jets have sophisticated targeting systems that need to present a swath of information to the pilot quickly and clearly. Both of these use cases have two things in common: they are constant demands in modern military avionics and hinge on a supply of high quality display monitors.
Deciding what specifications are needed to ensure a high quality image is only the tip of the iceberg. There are multiple factors to consider when choosing the correct display monitor for avionic deployment. Whether the display is airborne or on the ground influences not only the form factor, but the technical capabilities of the display, as well. Military undertakings can be difficult and are often associated with high risk; having the best possible equipment means that the most informed decisions can be made with greater ease and efficiency.
The Many Use Cases of Display Monitors in Aviation
As noted above, much of the challenge in choosing an aviation display monitor depends on whether said screen is going to be in the air. Modern avionics has multiple needs for display monitors, including:
Aircraft displays, targeting systems, and cockpit gauges
Radar stations monitoring UAV drones
Cockpits for training simulations
The list goes on, but even these three cases require a variety of different display types, sizes, and makes to complete a fully functioning system. These can range from large, 20+ inch screens that can handle multiple inputs and switching to low power options that can fit into modern aircraft.
Baseline Specifications for Display Monitors
When it comes to display monitors, the needs for modern military avionics definitely steer toward the high end. The basic use case tends to be watching video from UAV feeds or a heads-up display for targeting computers, which obviously benefit from having a high quality picture. Most display monitors used in military aviation are HD quality; some of the larger screens are 1080p, which allows for the best picture possible when capturing footage. Even the smaller screens will have a high pixel density in order to enhance video detail.
Another basic need for these displays is the ability to handle a multitude of inputs. Sometimes there can be three or four feeds hooked into the same monitor, all operating on a different standard, ranging from HDMI to RGB. The most useful display monitor will be able to handle all of these devices without having to resort to the use of converters or adapters, which can drive up cost, distort signals and take up space. However, one item to invest in is a reliable input switcher, which allows for easy change overs and increases the amount of input that a single display can handle.
Display Monitors: To Touch, or Not to Touch

The touch screen future has arrived, but what kind of viability does it have in the aviation display market? Definitely some, but not as much as one would think. Touch capabilities can be extremely handy in an aircraft, allowing for virtual buttons to be placed on screen for cases such as mapping control. At a stationary monitoring base, however, touch screens are not the most cost effective product. Having soft buttons along the rim of a screen that change to the context/contents being shown can be incredibly useful during operations.
Brian Luckman is the President of New Era Electronics. He has worked in the industrial OEM market for over 25 years, serving a variety of different industries, gaining a strong reputation for his expertise and a thorough understanding of how to properly service OEM customers. In 2000 he began New Era Electronics and the company continues to grow. He's a husband and father and enjoys exploring the outdoors.
Creative Commons Attribution: Permission is granted to repost this article in its entirety with credit to New Era Electronics and a clickable link back to this page.