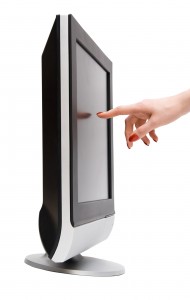 Understanding Various Computer Touch Screens
Published on:

Published in:
Blog
Undeniably, more and more devices are now requiring the use of touch screen technology. Bear in mind, however, that not all computer touch screens are created equal, as they say.
From tablets to panel PCs and beyond, there are currently a variety of uses for touch screens in the industry. Read on to learn about some of the particular pros and cons of several of the main touch screen types.
Computer Touch Screens: From Viewing to Contact
Touch screens use signals that enable a device to locate exactly which part of the surface the user is accessing via the screen, thus allowing the software to determine what kind of action or step to undertake in relation to the command.
Users and developers look for a functional touch screen that fits their needs in terms of both ease of usage and durability. Here's a look at four of the primary types of computer touch screens in the industry today.
Resistive touch screens – The resistive touch screen has been widely used, mostly due to its low cost production and resistance to environmental factors such as dust and water. Because of this, some manufacturers see this as the better choice for industrial usage. But, the downside to this type of screen is that it has poor light transmittance. This is due to the two opposing layers that have been coated by an electrode film, which, in effect, creates a contact between the two layers once pressure is applied. This screen is also noted to have lower durability and shock resistance.
Capacitive touch screens – Commonly used by manufacturers for small electronic devices, the capacitive type deals with electrical properties for the transmission of the command. Instead of two layers that rely on pressure, capacitive computer touch screens contain a transparent electrode film on top of the glass, covered by a protective layer. They are sensitive to the change in electrostatic capacity that is created once the screen is touched externally. They are very durable and react quite smoothly to touch. However, the type of contact is generally limited to human touch, meaning that other objects, such as a thickly gloved hand, pointed object, or stylus (unless specially made) will not effectively execute any kind of command. In addition, capacitive touch screens do not work particularly well when wet.
Infrared touch screens – Infrared touch screens are most popular among larger panels. The system is dependent on light-beam technology, wherein the light is emitted and any interruption in the light sequence is noticed by a camera, which allows for the command to be transmitted. This type of touch screen tends to have excellent durability, light transmittance and environmental resistance. However, the price point is on the high end.
Surface acoustic wave touch screens – Last but not least, the surface acoustic wave type operates via ultrasonic waves being transmitted on the screen. The panel detects screen position when an object has made contact with the screen, which causes an attenuation in the surface wave. Due to its design, this touch panel offers superior light transmittance, visibility, is scratch resistant, and durable. Similar to resistive touch, this type of touch screen has the benefit of a relatively low cost. However, it only works with fingers and other soft objects and can react to substances such as water droplets and small insects.
Knowing about a number of the benefits and disadvantages of the various computer touch screens can assist you in narrowing down the selections best suited to your particular industrial needs.
Brian Luckman is the President of New Era Electronics. He has worked in the industrial OEM market for over 25 years, serving a variety of different industries, gaining a strong reputation for his expertise and a thorough understanding of how to properly service OEM customers. In 2000 he began New Era Electronics and the company continues to grow. He's a husband and father and enjoys exploring the outdoors.
Creative Commons Attribution: Permission is granted to repost this article in its entirety with credit to New Era Electronics and a clickable link back to this page.