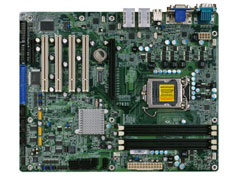 Understanding the Different Industrial Motherboards
Published on:

Published in:
Blog
With the need to cope with demands for advances in industrial motherboard computing systems, a wide variety of industrial motherboards are now available in today's market.
For use in desktop and rack mount computers the general choices are ATX system boards and micro ATX motherboards, depending on your computing needs.
Advantages of Industrial Motherboards over Commercial Models
When choosing a motherboard type, it's best to opt for those that are manufactured by an industrial manufacturer, as compared to finding a commercialized model, which can cost more in the long run.
For instance, most industrial motherboards have a standard form factor. This feature allows for upgrades to the device without posing the problem of incompatibility with the circuit. Also, there are some manufacturers who create motherboards that limit revisions and upgrades to a smaller margin, hence lessening the frequency of expensive maintenance and upgrades.
In addition to this, this kind of motherboard is also beneficial to those who require a more adaptable kind of expansion card, as it promotes manageability and longevity of the product.
Development of ATX Motherboard
The ATX board is both a historical step in the development of industrial motherboards and the product of a series of upgrades from its predecessor, the Baby-AT form factor. This is because engineers found three main areas that required major reconstruction and improvements for better functionality and efficient usage of the motherboard.
One of the key areas that was improved by ATX boards is the consideration of installing additional or future I/Os and other technology. This allows the ATX industrial motherboards to adapt to other innovations without having to undergo major revisions.
Another problematic aspect that was dealt with by the ATX motherboard is the ease of use. With ATX, there is now a better functionality and user-friendly aspect to the device, compared to form factors that came before it.
Lastly, there is also the issue of system costs. The change that was made enabled the ATX board to have reduced overall system cost through various methods, including the integration of I/O to the board for the option of using shorter cables. Shorter cables are actually a great benefit for industrial motherboards, as they lower manufacturing time and holding costs because of the fewer number of cables.
Other Benefits of Industrial Motherboards
The major benefits of selecting an ATX or micro ATX motherboard is that the user has a much easier time finding compatibility for legacy parts. For example, commercial motherboards have PCIe slots, and maybe a few PCI slots. But if a customer is looking for ISA slots or serial ports, the only way to go is the industrial route.
Since the features in a computer are constantly becoming more advanced despite being basic in nature, industrial motherboards can be the key to reducing the cost of adding special features to a board or removing them altogether as they allow for customization for orders of as few as 50 boards. Compared with the thousands of boards needed to make customizations on commercial boards, that saves money for the customer at the outset and by a very large margin.
Brian Luckman is the President of New Era Electronics. He has worked in the industrial OEM market for over 25 years, serving a variety of different industries, gaining a strong reputation for his expertise and a thorough understanding of how to properly service OEM customers. In 2000 he began New Era Electronics and the company continues to grow. He's a husband and father and enjoys exploring the outdoors.
Creative Commons Attribution: Permission is granted to repost this article in its entirety with credit to New Era Electronics and a clickable link back to this page.