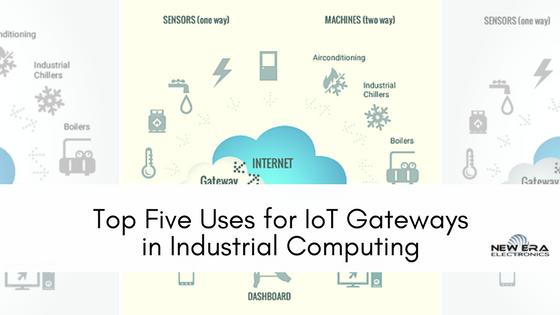 Top Five Uses for IoT Gateways in Industrial Computing
Published on:

Published in:
Blog
Application of the Internet of Things (IoT) is growing rapidly throughout industry and interacting with aspects of our daily lives. Gartner, one of the world's leading IT research and advisory companies, predicts that the IoT will include 26 billion connected units by 2020.
The spread of IoT technology has been made possible by cloud computing.
The IoT will generate massive amounts of data that need to be directed through gateways to cloud computing facilities. These gateways must be robust enough to filter, collate and process data before it's sent to the cloud.
IoT gateways act as traffic controllers to direct data between devices and computers. Gateway failure will one day be as impactful to a business or our daily lives as a power outage is now. Here we outline some of the many uses for IoT gateways in industrial computing.
Manufacturing and Industrial Process Control
Smart manufacturing using IoT technology will have immense benefits for businesses. It will enable  the ongoing measurement and control of industrial processes, reducing waste and ensuring accurate control of product quality.
Industrial computers will be able to better automate process management and increase production efficiency. Ongoing monitoring can predict the need for machine maintenance and streamline the supply chain to ensure better service to customers.
Building Management
IoT connected devices can measure and control HVAC systems and other utilities used in buildings. Automation of these systems will cut energy usage, increase efficiency and provide a greener solution by reducing a building's carbon footprint.
Building managers can monitor data to detect leaks or burning lights and thereby reduce wastage and operational costs. Data can also be used to trigger alarms that alert personnel to hazardous situations.
Energy Grid Management
IoT connectivity will make it easier to manage the generation, transmission and distribution of energy. Energy management authorities can make provision for new consumer demand, ensuring that the networks are optimally designed and controlled to avoid power outages and gridlock.
Healthcare
In this day and age where we have rising levels of obesity, diabetes and heart disease, IoT gateways ensure safer lives for all of us. This technology enables medical professionals to remotely monitor the vital signs of patients and thus provide timely response and care.
The advent of wearable technology will also assist healthcare workers to keep track of changes in medical patterns and take corrective action where necessary.
Transportation
The world's population is becoming increasingly urbanized. This is placing more strain on transportation networks and systems. IoT solutions can help cities to become smarter and manage traffic flow and reduce congestion.
For businesses, devices with IoT connectivity can generate data to assist management in optimizing logistics and transportation. Fleet managers can analyze data on bus/truck diagnostics, routing, fuel economy, vehicle maintenance, carbon emissions and driver fatigue. This will help companies to reduce their operational costs while providing a safer and cleaner environment.
To find out how IoT gateways can play a role in the operation and efficiency of your business, contact a leading supplier of products and services for all OEM industrial computing needs.
Brian Luckman is the President of New Era Electronics. He has worked in the industrial OEM market for over 25 years, serving a variety of different industries, gaining a strong reputation for his expertise and a thorough understanding of how to properly service OEM customers. In 2000 he began New Era Electronics and the company continues to grow. He's a husband and father and enjoys exploring the outdoors.
Creative Commons Attribution:  Permission is granted to repost this article in its entirety with credit to New Era Electronics and a clickable link back to this page.