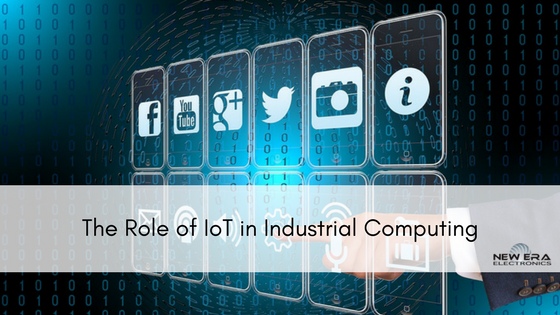 The Role of IoT in Industrial Computing
Published on:

Published in:
Blog
Great strides have been made in integrating the Internet of Things (IoT) into industrial automation over recent years. The Industrial Internet of Things (IIoT) is also referred to as Industry 4.0 because application of these technologies is seen as the fourth revolution in industry.
The Fourth Industrial Revolution
The three previous industrial revolutions were about mechanization in the 19th century, electric power and assembly lines for mass production in the early 1900s, and then plant automation with the development of computers in the later 20th century. Industry 4.0 is the latest revolution that will be powered by the IoT using web-based software.
In a report by BI Insider Intelligence, it is forecast that the number of connected IoT devices will increase from 10 billion at present to 24 billion in 2020. Industry will be the biggest user of IoT technology which they will use to:-
increase productivity
lower operating costs
introduce flexible manufacturing capabilities
develop new products for new markets.
It is envisaged that markets in the future will be driven not only by product price, but largely by flexible made-to-order production. This will require more sophisticated automation of manufacturing machines, resulting in smart factories controlled by IoT systems and technology.
Gearing Up for the IIoT
The IIoT will consist of large numbers of interconnected industrial systems, communicating with each other to increase productivity through data analytics and control. These systems have a digital/physical interface through sensors and actuators and are connected to powerful computers for data analysis and plant control.
Essentially, industrial systems in the near future will be able to self-adjust and send data continuously about the state of their operations. Machines will be designed to be smarter, sending alerts for scheduled maintenance or part replacement. They will also be able to adjust their control dynamics to compensate for any anomalies and optimize machine performance.
Edge Computing for Improved Network Latency
Network speeds are determined by bandwidth and latency. The latency of a network refers to any delays incurred when processing data. High latency networks are prone to long delays.
The IoT will generate huge volumes of data. If this is sent to the cloud to be analyzed, delays may result, with timely reaction to problems being forfeited. Edge computing will analyze critical data at the network edge without sending it to the cloud. This will reduce latency and speed up network response.
IIoT Security and Reliability
Of serious concern to developers is the problem posed by network security. Apart from the very real threat of catastrophic disruptions to production, companies need to protect their intellectual property.
IoT systems are not hardwired but connected to the internet via IOT gateways. This could leave some networks vulnerable to hacking and cyber attacks. Fortunately, industry specialists are hard at work on designing effective solutions to this problem and great progress has been made in this field.
Reliability of communication nodes and links in the network is also a concern. Businesses make large investments in machinery and manufacturing processes. Any breakdown in production is costly, so it is vital that industrial networks are designed and built to stringent standards to ensure maximum uptime of plant and equipment.
Don't get left behind, join the IoT industrial revolution! The systems, hardware, components and equipment are available to assist you with the design of your IoT network.
Brian Luckman is the President of New Era Electronics. He has worked in the industrial OEM market for over 25 years, serving a variety of different industries, gaining a strong reputation for his expertise and a thorough understanding of how to properly service OEM customers. In 2000 he began New Era Electronics and the company continues to grow. He's a husband and father and enjoys exploring the outdoors.
Creative Commons Attribution:  Permission is granted to repost this article in its entirety with credit to New Era Electronics and a clickable link back to this page.