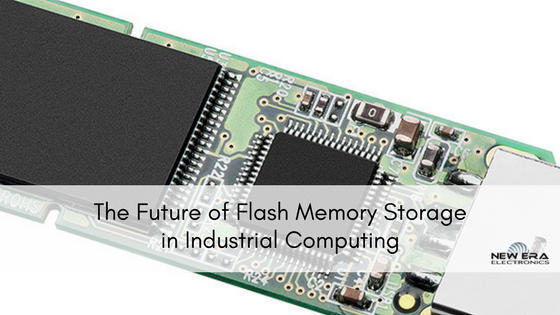 The Future of Flash Memory Storage in Industrial Computing
Published on:

Published in:
Blog
The future of flash memory storage looks phenomenal. So get the image of a flash thumb drive out of your mind because it's gone way beyond that. Flash memory storage, in industrial computing as well as in the corporate world and the IoT, will be adopted by more and more enterprises.In the consumer market, currently there is competition between flash and hard disk based storage systems for OEMs, but in industrial computing flash storage will continue to grow – far beyond existing compact flash storage.
Hard Disk vs Flash
Flash has the upper hand in performance. Hard disks may cost less right now and have higher capacity, but ongoing advances in flash are bringing costs closer together.
When it comes to enterprise storage in the foreseeable future, flash outstrips hard disk in performance, although it should be  said that the best enterprise storage strategy will likely be a mix of hard disk and flash.
Flash certainly has a major advantage over hard disk in size. Hard disk systems tend to be bulky, whereas flash storage is much smaller and lighter. Optimal for use cases lacking in real estate.
I/O Demands
With virtualization and scalable databases, industrial computing systems will continue generating increased I/O demand per server. Flash can meet that demand because it can be used in almost any storage configuration, while enabling higher virtual machine density with scalable databases.
Expect industrial computing systems to incorporate one of:
single-server flash – solid-state drive and PCI Express cards capable of supporting many operating systems and environments
aggregated server flash – storage will be pooled across a group of servers, each of which can access that storage
shared storage flash – all-flash arrays and hybrid (flash-assisted) arrays
All of these will have capacity for scale-up or scale-out configuring.
Network Upgrades
Networks for the new configuration of flash storage in industry will have more bandwidth to enable faster and more reliable connectivity across multiple devices.
Industrial Grade Flash Reliability
Many OEM systems and products that are targeted for the consumer market are based on MLC and TLC NAND technologies. These products are usually short-lived and often disposable. Although good on performance, they fall short in lifecycle and reliability.
Flash storage for industrial computing uses the highly reliable SLC NAND technology. This is more expensive than MLC or TLC, but has higher endurance. It is also less susceptible to power fluctuations or ambient variations. However, it should be known that as the technologies improve, MLC and TLC technologies are getting more endurance every year.
Industrial grade flash storage devices are designed foremost for durability and reliability. This is vital in instances where the risk of failure has to be minimized:-
Where the system or product is deployed in a remote location, reducing the feasibility of making service calls.
Where the device is situated in a hard-to-reach place or with little room for a technician to work.
The latest high-endurance flash memory storage devices for industrial computing are designed to perform well across extreme temperature ranges, typically -45˚C to +90˚C. Rugged packaging ensures that they can endure shock and vibration.
The higher cost of industrial grade flash storage is justified when one takes all these factors into consideration. These devices are not only ideal for factory automation and industrial computing applications, but are also suitable for use in other areas including robotics, space exploration, medical equipment, energy management, camera surveillance systems and point-of-sale equipment.
Brian Luckman is the President of New Era Electronics. He has worked in the industrial OEM market for over 25 years, serving a variety of different industries, gaining a strong reputation for his expertise and a thorough understanding of how to properly service OEM customers. In 2000 he began New Era Electronics and the company continues to grow. He's a husband and father and enjoys exploring the outdoors.
Creative Commons Attribution:  Permission is granted to repost this article in its entirety with credit to New Era Electronics and a clickable link back to this page.