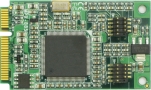 The Camera Eye: Video Capture Card as Peripheral Device
Published on:

Published in:
Blog
Closed circuit television has spread throughout the business world. Any company that oversees a significant piece of property will likely need to install some sort of video surveillance system to ensure the security of their premises. This entails a multiple camera system, either all hard-wired or wirelessly connected to a main computer that outputs the signal and, most importantly, records the footage. Capturing footage from a screen is not something that comes natively in many embedded systems. It requires a separate component to handle the output and convert the data.
A peripheral device such as a capture card handles this process, and not only for surveillance systems. Capture cards have many uses across multiple sectors, ranging from corporate to industrial. Regardless of the use case, this kind of peripheral device must fit the embedded device, taking into account power demands and size to ensure that it does the job—but not at the expense of overtaxing the system.
How Does a Capture Card Work?
Capture cards come in a variety of different forms. The most common is an internal board that hooks into the motherboard via a mini PCI or PCI-Express slot and the video output of whatever signal is being captured; the board itself sits within the main enclosure. In this fashion, the board makes use of the motherboards processor, meaning that the machine must be powerful enough to handle this new load.
Capture cards are also offered as external units that have their own enclosures, power, and sometimes, storage. The latter are usually more costly for the OEM and not the most feasible for embedded systems.
Why is this Kind of Peripheral Device Used?

As mentioned above, a capture card has many different uses. Basically, for any reason a client would have to record or edit video directly from an output signal, a capture card is essential to the process, such as:
Surveillance systems
Video editing
Streaming video across the internet/intranet
Hooking in a capture card opens up new possibilities with existing video signals.
The Necessary Component
A word of advice when setting up this kind of peripheral device: capturing video, especially in high definition, necessitates a massive amount of storage space. Having multiple hard drives on hand, possibly in a RAID configuration, to maximize the amount of video to be captured is absolutely essential for any use case involving a capture card.
Brian Luckman is the President of New Era Electronics. He has worked in the industrial OEM market for over 25 years, serving a variety of different industries, gaining a strong reputation for his expertise and a thorough understanding of how to properly service OEM customers. In 2000 he began New Era Electronics and the company continues to grow. He's a husband and father and enjoys exploring the outdoors.
Creative Commons Attribution: Permission is granted to repost this article in its entirety with credit to New Era Electronics and a clickable link back to this page.