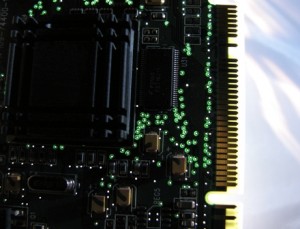 Small in all the Right Ways: The Mini-ITX Motherboard in Industrial Computing
Published on:

Published in:
Blog
When delving into the computing world, trying to develop an embedded system presents companies with a unique problem when considering which direction to go in with their design. What exactly does the device need to achieve? How can they balance the need for computing power with the machine's overall cost?
The answers to these questions usually come down to the different components that can be put into a system. Furthermore, what governs overall within the machine is the motherboard, the fulcrum point from which all of the directions and commands need to spring. Trying to decide on the best type and standard of motherboard to suit the requirements of the computer and to go with other components comes with a multitude of caveats. But there is definitely one that could be considered "the usual."
Why a Mini-ITX Motherboard Fits the Standard
A Mini-ITX motherboard fills a "jack of all trades" role within embedded computing for a number of reasons, the first being reflected in its name. While there are smaller form factors when it comes to motherboards, such as the Nano or Pico-ITX standards, they do not match up to the power and I/O capabilities of the Mini-ITX motherboard, which strikes a great balance between functionality and size.
The second benefit granted by this motherboard standard is the variety of possible uses across multiple disciplines. Everyone from the military to the gaming world has a possible use for a Mini-ITX motherboard. The machines coming out of these two sectors have very different use cases, but at their heart they still need to run programs, output video, and store data—all the while taking up a relatively small footprint in their diminutive shells. They can be used in such systems as:
Digital Signage
Gaming Systems
Video Security
Data Logging Systems
Industrial Control
This is just a short list of the possible applications; a Mini-ITX motherboard defines the word "versatile."
Mini-ITX Motherboards Help Industrial Computing
The key factor that makes Mini-ITX motherboards viable for the industrial market is their incredibly wide popularity. The constancy of change within computing creates major changes and turnover of components. However, when a component is very popular, it is guaranteed to be made for many, many more years, along with a wide selection.
Another major factor for the Mini-ITX in the industrial sector is legacy applications. Backwards compatibility is a constant issue in this part of the computing world, as companies do not have the bankroll to completely change over all of their systems at once. The "if it ain't broke" rule comes into play and luckily, Mini-ITX motherboard in the industrial market can play nice with older technologies and I/O.
Brian Luckman is the President of New Era Electronics. He has worked in the industrial OEM market for over 25 years, serving a variety of different industries, gaining a strong reputation for his expertise and a thorough understanding of how to properly service OEM customers. In 2000 he began New Era Electronics and the company continues to grow. He's a husband and father and enjoys exploring the outdoors.
Creative Commons Attribution: Permission is granted to repost this article in its entirety with credit to New Era Electronics and a clickable link back to this page.