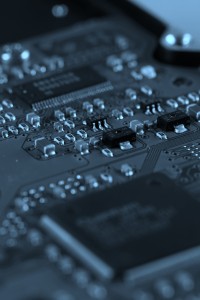 Qseven vs. COM Express: Battle of the Small but Powerful Embedded Boards
Published on:

Published in:
Blog
Companies involved in creating industrial computer systems move in one of two directions. Depending on the use case of the buyer, computers will push for the cutting edge of power, which necessitates considerable power and space demands. A range of motherboards fulfill these demands; ranging from Pico-ITX to the almost gargantuan EATX, they utilize the newest processors, graphics cards and additional modules to allow users the most power possible. Technology, and by extension the buyer's interest, can also move in the opposite direction.
Various sectors, such as the medical or military fields, have a need for low power solutions that can be mobile. Handheld computing or the shrinking of existing systems that allows them be used in the field represents the ultimate goal. The need to push computer systems to a smaller form factor presents a challenge, but manufacturers have essentially solved the issue with computer on modules.
The Popular Embedded Boards
OEMs are in the tough position of deciding which motherboard standard can be used to fit the need for smaller computing. Manufacturers present a number of different types; the two most popular and smallest board standards are Qseven and COM Express. There are a number of differences between the two, most notable is power consumption and, resultantly, processing power. The Qseven has a 12 watt maximum power consumption, which is not a problem if you require an Intel Atom or low power AMD processor. However, if you require something with more oomf, such as an i7, then the COM Express is definitely more down your alley.
Aside from this, the COM Express embedded boards nudge out the Qseven standard because of some small changes to the board's components.
Similarities between Qseven and COM Express Embedded Boards
When placing the Qseven standard up against COM Express boards, we see that the two types are indeed similar. They skirt along the same form factor and possible component usage, making them both extremely viable in the realm of mobile computing. In the Qseven vs COM Express matchup, the two come up basically even in terms of the following:
Size: Qseven boards take up only 7 x 7 cm, forming a quadratic, for which the embedded board is named. The COM Express standard specifies 4 different sizes, ranging from 5.5 x 8.4 cm mini to the 11 x 15.5 cm extended. While dimensions may be slightly different, both Qseven and COM Express mini embedded boards take up basically the same amount of space within a system.
Carrier Boards: As is customary for COMs, while they are small and useful, they still do require a carrier board for full functionality. Neither the Qseven nor COM Express are exceptions to this rule.
Display output: Multi-screen devices can be extremely useful in military and medical sectors. The ability to display information to multiple users or allow a cleaner operating system by having more screen space can be extremely useful. Qseven and COM Express boards have multiple video outputs and can run on older CRT screens or the more common LCD standard.
Compatibility Tips the Balance in the Qseven vs. COM Express War
Aside from power consumption, where these two embedded boards diverge is their handling of compatibility toward older inputs and components. Qseven standards stipulate that they will only utilize current and future I/O in their build, which deliberately omits the possibility of legacy parts. While technology does move at a quick pace, some parts of the chain are slower than others. If there is always the need to push for newer components, compatibility issues can arise with the users' programs or can increase costs due to these upgrades.
The result of this is that while the COM Express and Qseven are similar, the COM Express comes out on top as being the more versatile board of the two.
Brian Luckman is the President of New Era Electronics. He has worked in the industrial OEM market for over 25 years, serving a variety of different industries, gaining a strong reputation for his expertise and a thorough understanding of how to properly service OEM customers. In 2000 he began New Era Electronics and the company continues to grow. He's a husband and father and enjoys exploring the outdoors.
Creative Commons Attribution: Permission is granted to repost this article in its entirety with credit to New Era Electronics and a clickable link back to this page.