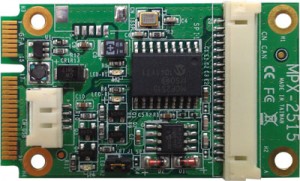 PCIe Mini Card for Industrial Applications
Published on:

Published in:
Blog
Getting an embedded system that is perfect for your specific application can be tough. You can have an industrial motherboard or system that perfectly suits every need for your specific application… except for one. Whatever that missing piece is, it may either be something that would be convenient to have for your application or, in the worst case scenario, something absolutely crucial, forcing you to turn away from this otherwise perfect computer part. In some cases you may therefore be forced to use a lesser product or one from a less trustworthy manufacturer.
The Solution is the PCIe Mini Card
When it comes to the problem of missing components, there is no one solution that will act as a panacea. But when it comes to a small footprint solution that is relatively low in cost, the PCIe mini card fills the empty shoes quite well and can solve most issues. The data rate for mini PCIe version 1.0 is 250 MB/s, which is more than enough for the majority of needs in industrial computing. In support of this is the sheer amount of I/O and add-ons available via the PCIe mini card specification. This covers common things such as LAN and DVI interfaces, but also goes as far as to include less common interfaces and add-ons, such as the CAN bus, touch screen controllers and video capture modules.
As many know, mSATA shares the same form factor as mini PCIe; the slots, however, aren't necessarily electrically compatible. For this reason there are a large number of boards whose mini pcle slot can double as an mSATA slot, which gives the OEM that extra bit of control over the choice between extra storage or I/O. However, there is a lesser known fact that in the absence of a mini PCIe slot that is electrically compatible with mSATA, you can still have recourse to a piece of hardware called a mini-PCIe DOM. Similar to a SATA DOM, it is simply a PCIe mini Card that plugs into the mini PCIe slot and provides anywhere from 8 GB to 32 GB of NAND flash memory. This can be a lifesaver in more than one situation.
A Problem-Solver to Keep in Mind
Currently, mini PCIe slots have become so commonplace in the embedded computing world that nearly every embedded motherboard has at least one. Because of the uniqueness of each problem that is encountered in embedded computing, the sheer scope of what can be handled by a PCIe mini card can be overlooked. For this reason, it is always an avenue worth thoroughly exploring.
Brian Luckman is the President of New Era Electronics. He has worked in the industrial OEM market for over 25 years, serving a variety of different industries, gaining a strong reputation for his expertise and a thorough understanding of how to properly service OEM customers. In 2000 he began New Era Electronics and the company continues to grow. He's a husband and father and enjoys exploring the outdoors.
Creative Commons Attribution: Permission is granted to repost this article in its entirety with credit to New Era Electronics and a clickable link back to this page.