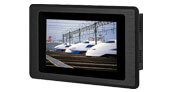 Obtaining a Fanless Panel PC
Published on:

Published in:
Blog
Obtaining a fanless panel PC poses an interesting situation. The reason for this is that there are actually two things that you need to worry about when you're a manufacturer designing a fanless panel PC. There is the processor, which is the usual part that needs to be given attention in a fanless system. However, when it comes to a fanless panel PC, the display is actually another part that needs to be taken into consideration, due to its heat sensitivity, which is why while fanless systems are a dime a dozen, fanless panel PCs are less prolific.
That said, we happen to be benefited by the happy circumstance that with the advent of the iPhone and iPad, touch screens have exploded in popularity. The embedded computing industry can sometimes be a bit slow on the uptake, but every manufacturer has jumped on board in making these. And in the embedded computing industry, when there are numerous options, it becomes a lot more likely that quality options will be available.
Factors for Selecting a Fanless Panel PC
Being that a panel PC is going to be constantly touched, jostled, and possibly moved, depending on the application, having fewer moving parts that could break down is a great benefit. As well as that, in any environment (save for possibly a clean room), there is going to be dust and dirt, and you can be certain that a fan will suck that right into your machine, causing a host of problems with heat being the likely foe, and an electrical short being the worst case scenario.
However, the trade-off of going for the fanless panel PC is that you're more than likely going to have to go with a low power processo,r such as an Atom™ D2550, maybe a Intel® Celeron®, while the best case scenario would see you using an ARM based processor. Don't misunderstand, however, because there are i5 and i7 fanless panel PCs out there, such as the ACP-5185. They just have one of two (or both) caveats attached to them:
They are not wide temperature, likely 0°C ~ 40°C.
They have an outrageously high price point.
Luckily, the vast majority of panel PC applications don't require anything more powerful than a dual core Atom™. And luckily, this is a product that many manufacturers can provide at a good price. In our experience, the best manufacturers for price and quality have been Axiomtek and Arbor.
A Brighter Future for the High Powered Fanless Panel PC
As a final note, I'd like to add that since the advent of Ivy Bridge, we've seen significant headway in the manufacture of high powered, fanless systems. This is due to the fact that the power consumption of Ivy Bridge processors was cut nearly in half compared with the earlier Sandybridge architecture. According to reports, Intel's new Haswell chip, slated for release on June 4, will see even lower power consumption. If this is true, then I'm willing to wager that problems in finding price competitive fanless panel PCs with high powered processors will be a thing of the past.
Brian Luckman is the President of New Era Electronics. He has worked in the industrial OEM market for over 25 years, serving a variety of different industries, gaining a strong reputation for his expertise and a thorough understanding of how to properly service OEM customers. In 2000 he began New Era Electronics and the company continues to grow. He's a husband and father and enjoys exploring the outdoors.
Creative Commons Attribution: Permission is granted to repost this article in its entirety with credit to New Era Electronics and a clickable link back to this page.