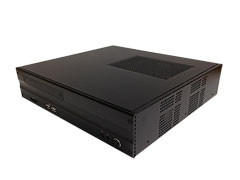 Necessary Features in an In-Vehicle PC
Published on:

Published in:
Blog
You have a vehicle application that requires an embedded computer and no computer to fill it. Where do you start? Well, looking in the embedded computing sector for a rugged PC is a step in the right direction but, as you know, there is a specific set of required features, such as unique I/O (input-output) and a resistance to certain environmental factors that are necessary for an in-vehicle PC.
The I/O and Software Difference
On a very basic level, what makes an in-vehicle PC different from any other embedded computer is the CAN bus (Controller Area Network). If there is an embedded PC in a vehicle and it is expected to have some sort of communication with any part of that vehicle, it is a pretty sure bet that the PC is connected via CAN bus.
Just as important, if not more so, is that the PC must have the specific design and input that allows it to turn on and off with the ignition of the vehicle itself. Since most computers aren't built to have their power abruptly cut off, with potential damage and the interruption of programs being a risk, a smart power management system with ignition on/off delay via software is another necessary item.
Environmental Factors with an In-Vehicle PC
A vehicle is obviously expected to be in motion. This means that the computer is going to need to cope with vibration and therefore needs 3 things:
It needs to be fanless
It needs to have some sort of flash storage, rather than an HDD
It should have an anti-vibration design
The necessity for a fanless design, void of an HDD, is for the simple fact that moving parts in a computer create a higher chance of failure. This problem is compounded when vibration is involved.
An important point to consider is conditional to where the computer is located in (or on) the vehicle, and in what kind of environment the vehicle is expected to operate. The final concern that is necessary to handle is to get a PC that can cope within a wide temperature range, as often the standard range of 0°C to 40°C (32°F to 104°F) will not cut it. Usually a temperature range of -20°C to 70°C (-4°F to 158°F) is adequate, but options exist which have a range of -40°C to 85°C (-40°F to 185°F).
Brian Luckman is the President of New Era Electronics. He has worked in the industrial OEM market for over 25 years, serving a variety of different industries, gaining a strong reputation for his expertise and a thorough understanding of how to properly service OEM customers. In 2000 he began New Era Electronics and the company continues to grow. He's a husband and father and enjoys exploring the outdoors.
Creative Commons Attribution: Permission is granted to repost this article in its entirety with credit to New Era Electronics and a clickable link back to this page.