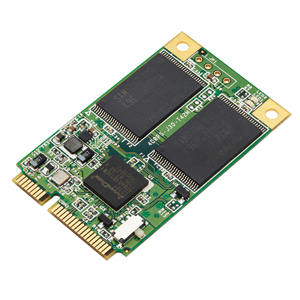 Military mSATA: Ruggedization and Security Benefits
Published on:

Published in:
Blog
The mSATA SSD inherently is a shoe-in for military and any other rugged industrial applications. It is a small footprint computer storage device that uses NAND flash memory. So, in addition to being small enough to fit on a fully populated motherboard, it can deal with more stress than an HDD and still have that split-second speed we've all come to know and love. But does that mean it's enough for a high stress environment such as, for instance, in a military application?
The short answer to that is yes. However, there are certain specs that have to be adhered to in order to guarantee that this is the case. For instance, if the part is going to be used in sub-zero or especially hot environments, then the mSATA is going to need to have a wide temperature rating. Perhaps it is going to be placed in a vehicle where vibration and shock are a factor. Luckily, in this case, there are mSATA modules which have all of these features, and they go by the name of military mSATA.
Where and Why to Get Military mSATA
If you have a military application, then using a military mSATA is pretty much a no-brainer. However, there is also considerable benefit to using military mSATA in industries aside from the military industry. The main reason for this is the military standards that mSATA adhere to, encompassing a wide range environmental and shock resistant specifications. On an even deeper level, there is the additional choice of whether you need the mSATA to be MLC or SLC memory. While SLC is the likely choice due to its longer life cycle and faster speed, it is great that the option for MLC is available, due to its lower cost.
As far as who would be a good provider of military mSATA, the general trusted source for wide temperature and military RAM and flash memory is Innodisk. They have a good selection of both SLC and MLC products that adhere to the needs of military and otherwise environmentally resistant products, and can be purchased from most reputable industrial computer distributors.
Brian Luckman is the President of New Era Electronics. He has worked in the industrial OEM market for over 25 years, serving a variety of different industries, gaining a strong reputation for his expertise and a thorough understanding of how to properly service OEM customers. In 2000 he began New Era Electronics and the company continues to grow. He's a husband and father and enjoys exploring the outdoors.
Creative Commons Attribution: Permission is granted to repost this article in its entirety with credit to New Era Electronics and a clickable link back to this page.