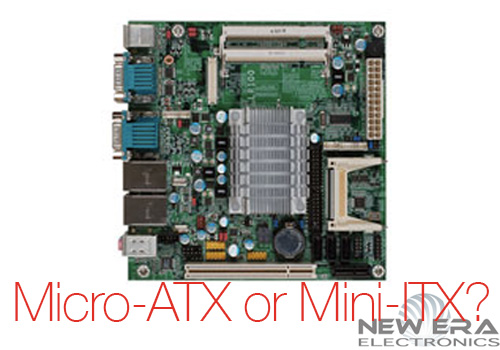 Micro-ATX vs Mini-ITX: The Embedded Story
Published on:

Published in:
Blog
What are the pros and cons for Mini-ITX and Micro-ATX for embedded and industrial applications?
For consumer desktop and enterprise applications, it's almost a no brainer to go for a Micro-ATX or ATX. In embedded applications, things tend to lean more to the Mini-ITX side of things. Let's take a look at why that may be.
The Case for Mini-ITX
For industrial and embedded applications, this is pretty much the workhorse of the motherboards. They are in the highest demand and as a result there is a large selection to choose from.
Some of the benefits of the Mini-ITX:
Higher variety of product
Higher demand makes for a longer lifecycle by embedded manufacturers
The small form factor is very convenient for a lot of embedded applications
Because they are more "strictly embedded" it is easier to find Mini-ITX boards with fanless and rugged specifications.
For more info on Mini-ITX boards, check out our blog on "Selecting a Mini-ITX Board"
The Case for Micro-ATX
Micro-ATX is reasonably popular in the consumer desktop market. It allows for most of the benefits of an ATX board, with a few concessions to save for space. In the embedded market they are in less demand than the Mini-ITX. But the main benefit, by far, is the amount of space available by the form factor.
Some benefits of the Micro-ATX:
Greater expansion
If you have the space, its larger surface area and case can allow for more airflow
Ideal for high powered processors
Mini-ITX vs. Micro-ATX: The Verdict
The case for use of a mini-itx vs. a micro-itx is a balanced, however the main things to consider are the following:
When to choose a Micro-ATX:
If the space restrictions aren't too strict, and there are no features specific to the mini-ITX form factor that you need, then the Micro ATX seems a sure bet, with its higher power and more expansion.
When to choose a Mini-ITX:
For applications with space or power restrictions, a fanless Mini-ITX board with an Atom processor should be your board of choice.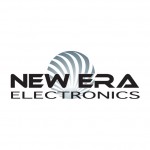 Brian Luckman is the President of New Era Electronics. He has worked in the industrial OEM market for over 25 years, serving a variety of different industries, gaining a strong reputation for his expertise and a thorough understanding of how to properly service OEM customers. In 2000 he began New Era Electronics and the company continues to grow. He's a husband and father and enjoys exploring the outdoors.
Creative Commons Attribution: Permission is granted to repost this article in its entirety with credit to New Era Electronics and a clickable link back to this page.