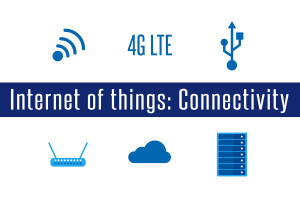 IoT Gateways – Your Simple Guide to the Internet of Things
Published on:

Published in:
Blog
The Internet of Things (IoT) is a simple concept: literally everything that can accept and transmit data automatically.
The IoT is the next evolutionary step toward fully integrated business operations and indeed daily living. We already see it growing all around us  – online and mobile communications connect everyone and almost everything. Put even more simply, it's just the next logical step, now that "cloud infrastructure" is in place.
At the hub of this exploding field is the IoT gateway. Businesses especially will find huge benefits from being better integrated, especially in the cloud.
What is a Gateway?
A gateway is simply a point in an information network that acts as a doorway to another network. An interface between devices  and the cloud. It enables data to be exchanged.
Imagine your business is behind a castle wall and you can't communicate with anything outside that wall. So, you knock down a section. Now you can get a flood of things back and forth, but without any control. That's not good because you have no way of stopping a rival from invading. Enter the gateway. Now you can control what is sent and received through the gate.
The IoT is sometimes also called M2M – machine to machine, machine to man, man to machine, even machine to mobile.
Your gateway can be set up to suit your needs.
What is meant by the word "Things"?
What exactly are the "things" that your business's IoT gateway will talk to and manage? Answer: pretty much anything.
An obvious current example is inside modern vehicles – the systems that navigate or detect collisions and theft, and even pull firmware updates off the cloud.
Other existing examples include routers, mobile devices, FitBits and Apple Watches, automated apps, remote home controls (for heating, lights, etc), smart appliances, security systems, smart sensors and technology everywhere, traffic lights, digital advertising displays… etc. anything that receives and sends information automatically. The most commonly known areas currently are home automation, wearable technology, fitness monitoring equipment, and automotive applications. But the IoT is everywhere and growing.
Going farther, for business, the idea is to connect premises, computers, websites, database, security systems, mobile devices, vehicles, appliances, documents, you name it. Full integration and access will make processing and operations easier and more efficient because information will be available quicker than ever before since basic processing can be done on each individual device with larger scale problems handled by the cloud.
It could even connect to you. Imagine a future where you have a heart monitor and something goes wrong. No need to activate a switch, medical services will be alerted automatically thanks to being integrated with the cloud.
What Can We Expect?
Aside from affecting our personal lives (can you imagine a smart yoga mat?), business will be revolutionized.
Workplace culture and productivity will change for the better and likely become far more flexible. More information will be available, better controls will be in place, and more work will be able to be carried out remotely. New fields of work will emerge.
Expect smaller and smarter devices for remote management and connectivity. More field technicians and operatives will be using them.
Software and systems will focus on interoperability across different industries. Expect to see much more of XML and SOA.
LEDs for lighting will be equipped with Bluetooth sensors (some already are) for measuring activity and traffic patterns in a workplace, or customer patterns and timings. From there, you'll be able to plan many things – sales, promotions, utility operations, opening/closing hours, security matters, and so on.
Industry operations will become safer through integrated realtime information about machine status, electrical systems, operational temperature, air quality, noise levels, weather conditions. IoT-capable consoles will monitor operations and environmental conditions for safety, absorb information, feed it via the cloud to control rooms and offsite to be read on smart devices, and make decisions and recommendations to assist operators. This will reduce accidents, deaths and risks in manufacturing, mining, oil and gas production, electricity, transportation, healthcare, water management, and more.
Doctors will remotely monitor some patients equipped with devices, freeing some hospital beds. Board rooms will have information fed directly to flat screen displays for instant, realtime analysis and discussion.
Farm tractors will be fitted with data connectivity to benefit farmers. Wait, they already are.
And much, much, MUCH more. We are at the beginning of another industrial revolution. But none of it will happen with proper IoT gateways.
How Does a Gateway Connect Things?
Think about a chair in your home. While you are away, you want to know if your dog sits in it.
Identity: With IPv6, a unique identity can be assigned to anything without limitations. You and the IoT gateway can tell this chair distinctly from any other.
Communication: Add wireless connectivity to it and the chair can send signals through the IoT gateway to the cloud.
Sensors: To know if someone is on the chair, sensors are implanted in it – a pressure sensor as well as a RFID sensor to read the dog's microchip.
Control: If you want to take action to move the dog, the chair needs tiny integrated circuits and mechanisms to be operated via remote connectivity.
The IoT gateway binds them all together.
This is just the tip of the iceberg. An IoT gateway is truly the portal to a new way of life. Businesses are already getting into it so they can serve clients at the cutting edge. Yours, too, can get a leg up on the competition by planning strategically and moving towards the integration and empowerment provided by the Internet of Things.
Brian Luckman is the President of New Era Electronics. He has worked in the industrial OEM market for over 25 years, serving a variety of different industries, gaining a strong reputation for his expertise and a thorough understanding of how to properly service OEM customers. In 2000 he began New Era Electronics and the company continues to grow. He's a husband and father and enjoys exploring the outdoors.
Creative Commons Attribution:  Permission is granted to repost this article in its entirety with credit to New Era Electronics and a clickable link back to this page.