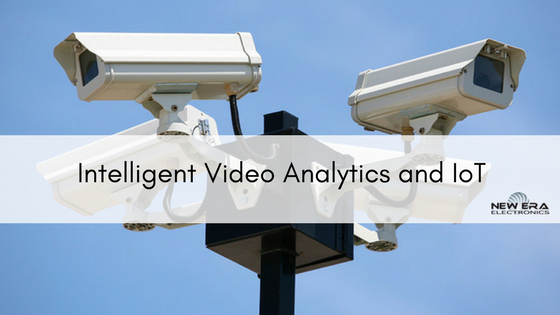 Intelligent Video Analytics and IoT
Published on:

Published in:
Blog
Intelligent Video Analytics (IVA) is the use of specialized computer hardware and software to automatically analyze video for many purposes, including motion tracking, facial recognition, object recognition, even flame and smoke detection. While this technology has been present for several years, it has come to prominence recently due to several technological factors, including higher resolutions, markedly improved low-power processing technology and the rise of the IoT.
The Internet of Things (IoT) refers to the increasing pervasiveness of smart devices that connect to the internet. The pattern of IoT development is bringing about several devices that perform edge analytics and functions, connected wirelessly to a centralized control point through an IoT gateway. This technology allows for markedly improved convenience and efficiency in virtually every sector of business and domestic life. Whether it's controlling the devices and equipment in your home, or managing the processes in a factory, or performing predictive maintenance on an elevator, IoT is involved.
Put the Two Together
IoT and IVA are two concepts that naturally go together. As just one example, consider video security  and surveillance. The value of information contained within video cannot be overstated. However, with the millions of hours of video being recorded every day, using people to monitor all of this data simply isn't feasible or reliable. IVA is a necessity for that work, just as leveraging wireless connectivity to access the cloud is essential. IVA provides the data and analysis required, while IoT ensures that action is taken and the appropriate people are notified.
Daily Life Applications
The applications for IoT-powered IVA are wide and varied. This double act is going to be a major feature of many industries, including:
security and surveillance – especially with face recognition technology and automatic alerting
manufacturing – alerts will put problem areas immediately on screen, even from a remote location
agriculture – one example is feeding and watering of livestock from a great distance
mining
health care monitoring
military applications.
Many applications we will see in our daily lives if we aren't noticing already:
driving a car and navigation management
traffic control
transportation
parking management and license plate identification to enable personalized directions to vacant parking
law enforcement
retail analytics
personalized shopping
automated banking
queue management.
The world of IVA and IoT is also going to be enormous for studying demographic trends. The technology is already expanding rapidly and we are sure to see more and more in our daily lives. What your business needs is to partner with a firm that is both a supplier and architect of industrial systems, intelligent video analytics technology, and IoT gateway devices. Staying ahead of the curve is the way to success.
Creative Commons Attribution:  Permission is granted to repost this article in its entirety with credit to New Era Electronics and a clickable link back to this page.