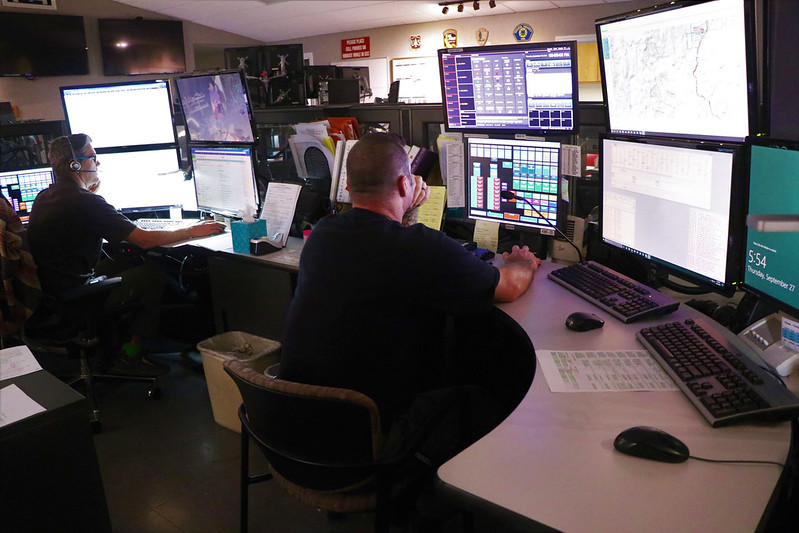 How Human-Machine Interfaces (HMI) Save Lives
Published on:

Published in:
Blog
Image Credit: Pacific Southwest Forest Service
According to a recent study done by the Association of Public-Safety Communications Officials, there is a growing need to modernize 911 emergency call centers with cloud-based computing devices.
Booming metropolitan populations and new safety and health risks, have created a demand for faster, more responsive Departments. This is a challenge that local governments and public institutions are trying desperately to meet.
Whether 911 dispatchers are receiving calls about vehicular accidents, property break-ins, or natural disasters, the objective remains the same – to keep callers safe until assistance arrives.
HMI In Operation
Investing in human-machine interface (HMI) devices can help cut down on redundant hardware and boost efficiency within a call center. With the advent of next generation 911 technology, also known as NG 911, the need for evolving outdated equipment has grown exponentially.
Simply put, HMI devices are interfaces or dashboards that connect a user to large automated system. While the term "HMI" typically refers to a Panel PC in a factory setting, the term itself can be applied to any input/output device with a screen that gives a person access to a larger software system. HMI devices are mostly used by industrial and engineering facilities to interact with machinery and to record and display information in real time.
HMI are used in various industries that require extreme attention to detail, such as engineering and oil and gas refineries. In such industries, HMI are capable of creating visual schematics and flow charts for engineers to interact with that lessen clutter and boost response time.
By integrating HMIs into an existing 911 system, dispatchers can have a smoother, more efficient system. Such allows for easy tracking of phone calls, discerning locations, and collating important data with just a swipe of the fingertips.
How NEE Can Help
New Era Electronics understands the need for life-saving equipment that fits the technical requirements of our clients. As such, our company specializes in assembling industrial hardware to suit the needs of any organization, configuring the necessary devices and loading custom software into the computers themselves.
Our experienced sales and engineering team can handle the logistics and assembly while your company focuses on the most important matters: saving lives and keeping emergency callers protected.
Have any questions? Our knowledgeable specialists at New Era Electronics can answer any queries regarding HMIs, industrial computers, and other peripherals. Call us today at +1-833-339-1235.