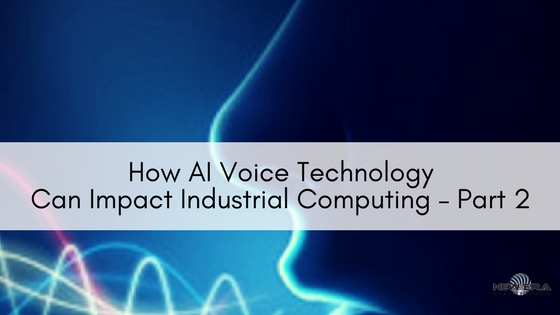 How AI Voice Technology Can Impact Industrial Computing – Part 2
Published on:

Published in:
Blog
Industrial Applications for AI
While research into artificial intelligence (AI) has been going on for a few decades and there have been several breakthroughs, now is the time that it will explode into industrial workplaces. Google's and Amazon's research facilities are humming along making great strides in the application of AI technology for lifestyle management and home automation. The time is ripe to extend that tech into major industry. Businesses need to get on board now to ride the amazing wave that's building.
Let's consider some of the industrial applications for AI technology that are likely to make an impact in the near future.
Healthcare
Healthcare has already seen strong development in AI systems. Johnson and Johnson has received FDA approval for Sedasys, a portable system for automatically monitoring a patient, interacting by voice with him/her, administering anesthetics  or sedatives for standard medical procedures, keeping all records, and informing nursing stations and doctors of status. Other prototypes are awaiting approval before they will enter mainstream healthcare. If AI tech can handle this level of sophistication, expect to see voice activated systems in all areas of the healthcare industry. Robots have been developed that can diagnose disease and medical problems with great accuracy and also be directed through voice technology to carry out intricate tasks and procedures.
Transportation
There are already driverless cars out there, such as Google's that can be driven with the aid of an AI-based voice assistant. Tesla has incorporated autopilot features in its self-driving automobile. By harnessing AI-based voice technology, Tesla envisions a car that can answer a summons at the owner's convenience and would be able to self-navigate and detect the precise location of the owner.
The ultimate goal is close: to produce a fully automated, intelligent driverless car. With cars and carts of all shapes and sizes, this AI tech will be absolutely huge in every industry you can name: warehousing, deliveries, manufacturing, transportation, law enforcement, traffic control, mining, the military, and more.
Morgan Stanley forecasts that self-driving cars, when fully deployed, will save the US $1.3 trillion a year in twenty years from now. Driverless cars, public transportation and delivery vehicles offer several benefits:
Fewer accidents
Less traffic congestion
Lower energy costs
Reduced carbon emission.
Manufacturing
Tremendous progress has been made with AI in manufacturing in the last decade. We are fast moving to a robot operated factory environment where humans will control, supervise and support purely by voice and visual command.
The major stumbling block to full-on implementation of AI in manufacturing tech is the impact it will have on human capital and the consequent loss of jobs. However, the development of machine-to-machine communication and the IoT, with their obvious benefits, will help to drive acceptance of AI technology in most manufacturing sectors.
Banking and Finance
AI-based voice technology will be used in various ways in the banking and financial industry to streamline processes, improve efficiency and increase customer satisfaction. Even now, robo-advisors are being used to provide financial advice or simply reduce queues (in branches or on phones) based on algorithms. Computers are quicker at analyzing data, so robo-advisors can assist with financial planning for customers and even forecast stock trends.
As so often happens in technology, what was once considered to belong in the realm of science fiction is becoming reality. AI technology is about to impact our lives in a big way, especially in industrial applications.
Now is the time for you to partner with an experienced builder of custom industrial computer systems to design and develop an AI-based solution for your workplace needs.
Creative Commons Attribution: Permission is granted to repost this article in its entirety with credit to New Era Electronics and a clickable link back to this page.