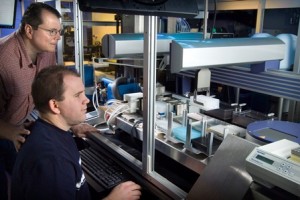 For the Uninitiated: What is an Industrial PC?
Published on:

Published in:
Blog
In the industrial sector, we sometimes neglect the larger questions that get us talking in the first place. How can we dissect the necessary components of a PC-104 board or the benefits of an SSD hard drive in an embedded system, without first addressing the larger question of an industrial PC? It may seem like a bygone question, or one that is below the regular readers of this blog, but such a discussion can actually contain some important information.
Just what is an industrial PC? Answering such a question helps to acquaint new people with and bring them into the industry, meaning new minds and a fresh take on solutions to existing problems.
 An Industrial PC as the Right Tool for the Job
 In the most basic sense, an industrial PC (sometimes known as an IPC) is one which is suited to fulfill one or more needs in the industrial sector. This can be done with either custom or off-the-shelf components. At first glance, that doesn't sound too much different from a computer that would be in an office. However, there are a few definite points which separate an Industrial PC from its commercial counterpart.
The foremost factor that makes the IPC different is the fact that they have long lifecycles.  While commercial components will cease to be manufactured and lose support within 6 months to a year, the average lifecycle of the IPC is 5-7 years! Naturally, in tandem with these long lifecycles IPCs offer options spanning newer expansions, while maintaining support for a slew of legacy expansions and I/O. Without these features, industrial applications would be plagued by constantly upgrading PCs and an endless product design cycle.
There are also several environmental factors involved. Certain use cases, such as those within the medical or military fields, for example, necessitate a particular type of machine. Within the military field there exists the need for mobile computing that can withstand the extremely demanding conditions in the field. Whether in conditions characterized by extreme heat or cold, dust and sand, moisture or aridity, an appropriate embedded system should be able to handle anything. Luckily, there are industrial PCs armed with shock resistant chassis and airtight sealing, rated to operate in extreme temperatures from -40 ~ 85°C and can function while mobile.
Industrial PC from Design to Finished Product
A major facet of an industrial PC is actually separate from the hardware itself and has to do more with the support and service level which is expected to come with it. Board and system level customization as a service is simply expected to be offered in the industry. Private labeling, custom BIOS, and assembly and testing all come to mind. However, even when standard industrial components and systems are provided there is an extended period of service, after the products are provided in order to help and provide input on the system integration.
Brian Luckman is the President of New Era Electronics. He has worked in the industrial OEM market for over 25 years, serving a variety of different industries, gaining a strong reputation for his expertise and a thorough understanding of how to properly service OEM customers. In 2000 he began New Era Electronics and the company continues to grow. He's a husband and father and enjoys exploring the outdoors.
Creative Commons Attribution: Permission is granted to repost this article in its entirety with credit to New Era Electronics and a clickable link back to this page.