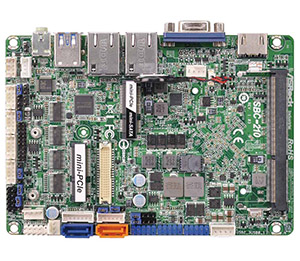 Features to Consider for Customized Embedded Boards
Published on:

Published in:
Blog
Industrial processes and applications continue to become more specialized and sophisticated. Furthermore, future technologies are rendering many off-the-shelf, stand-alone single board computers (SBC) expensive and/or unable to adapt. This is where customized embedded boards can be the simpler and more cost effective solution for large-scale operations.
Embedded boards are widely in use in a wide range of fields such as website hosting, laboratory equipment, energy generation, communications, manufacturing, traffic management and printing system management. Obviously, each fields requires its own unique features. But customized embedded boards needn't be the complex headache that some organizations fear. With the right features and  the right help, the solution can be simpler than you think.
The Chipset
The chipset is the hub of the embedded board and determines the board's power, efficiency and performance. The choice of chipset will determine the type of CPU, RAM and Interfaces that can be used within the motherboard, thereby potentially impacting the processing speed of the system. Easily the hardest part of designing a custom board is the chipset and CPU.
Ethernet
When it comes to Ethernet connections and technology, industrial organizations need connections that can handle large swaths of data being transferred within their systems, keeping everything in communication. The most common types of Ethernet available on customized embedded boards are 10base-T and 100base-TX and Gigabit Ethernet. The difference between the two is the connection speed. 10base-T products can transfer at speeds of 10 megabits per second, while 100base-TX transfers 100 megabits a second and Gigabit Ethernet transfers at a rate of 1000 megabits or 1 gigabit. The larger the amount of data transferred throughout the working day, the higher the Ethernet capacity that will be required. These days, Gigabit Ethernet is the most common due to its high speed and relatively low cost.
Controllers and Interfaces
This is a wide category, but to touch upon every item within it would take forever. The main point is that in many cases, it is impossible to find a board with all of the features that you want. Whether you need a touch screen controller, a parallel port, a TPM module, etc. It can be tough to find all of the features you need on a single board. There are a few solutions to this, with off the shelf boards. The easiest is to simply make a concession and make do with one less feature. Another way to do it is to fork out some extra dough and pay for an expansion card, taking a hit to your budget and giving up some real estate.
Therein lies the main benefit of a custom board. All of the features that you need are included. None of the features that you don't need are included. You have a perfect board for your application and after the NRE, in many cases, the board itself can be cheaper.
Other Key Features and Components
Customizing of embedded boards covers so many areas including high-performance systems, meeting medical safety standards, fanless designs, low-power solutions, thermal engineering, enclosures that are dust and drip resistant, and more.
There is no need to be overwhelmed by all the considerations and components. Talk to a company that specializes in customizing and installing motherboards, and also provides proper after-sales service, to meet your needs in an ever-changing marketplace.
Brian Luckman is the President of New Era Electronics. He has worked in the industrial OEM market for over 25 years, serving a variety of different industries, gaining a strong reputation for his expertise and a thorough understanding of how to properly service OEM customers. In 2000 he began New Era Electronics and the company continues to grow. He's a husband and father and enjoys exploring the outdoors.
Creative Commons Attribution:  Permission is granted to repost this article in its entirety with credit to New Era Electronics and a clickable link back to this page.