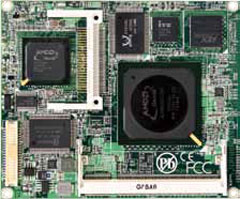 Factors to Consider for Computer on Modules
Published on:

Published in:
Blog
Small form factor PC solutions within an integrated single-board computer fall under the category of computer-on-modules. As an embedded computer that is based on a single circuit board, the computer-on-module allows for core functionality on a customized setting.
This allows engineers to design features that would cater to different applications, all embedded into the carrier board.
Computer-on-Module Product Categories
There are many categories for computer-on-modules, and each is dependent on the need and the purpose of the CPU module.
ETX – Also known as the embedded technology extended, the ETX is a computer-on-module that comes as a complete package of PC functionality despite its size of 95 mm by 114 mm. It's been around since the turn of the century in the year 2000 and so it has the great benefit of being compatible with a wide range of legacy parts such as ISA, IDE and PS/2, which is a virtual godsend in the industrial computer industry. However, as a tradeoff, it doesn't support newer technology such as PCIe and LPC. It is usually compatible to a wide range of processors that can be found in the market.
XTX – Essentially a modernized version of the ETX specification, the XTX module fits into a familiar footprint on 95mm by 114mm. The main changes are a drop off on legacy ISA support, opting instead for PCIe support, as well as greater USB and SATA support. In addition to a few other I/O upgrades it supports LPC all while maintaining the same power intake of its forefather and a wide selection of compatible CPUs.
COM Express Module – This is a very versatile module. Most notable about this type is that it is perfect for processors that only consume low to medium power. Its dimensions can range from 155mm by 110 mm to 95 mm by 95 mm. The benefits of this form factor are modernization and variety. With 3 different specification sizes (compact, basic, extended) and 7 different pinouts, you get a varied selection from single connectors to double connectors and 4pci Express lanes to 32 lanes. As a tradeoff for being a more modern model, it does not support ISA.
Qseven – A sleek modern small form factor module. The Qseven specification certainly fits those categories, and while the computer industry is mercurial and constantly upgrading, the latest Qseven revision came about late in 2010, giving it just enough time to ripen and be functional in the hands of competent manufacturers, while still being relatively "new" technology, by industrial computing standards. It's dimensions are 70mm by 70mm and it shirks all of the legacy parts such as PCI, ISA and even EIDE in favor of the more modern SATA, PCI e and a flood of modern I/O interfaces. One thing to consider is that it is limited to low-power CPUs, with a max power consumption of 12 watts.
Industrial Solutions
Should you aim for industrial computer-on-modules? Usually, factors such as the correct operation of the supply of power, the environment the device will be operating in and supporting, or even the budget for modifications of the device, can be the basis of whether or not an industrial solution would be better.
The advantage of opting for industrial computer on modules is that they can handle aggressive operations and bigger tasks for an industrial environment.
At the same time, these kinds of models may have additional features that are tailor-made to deal with complications in an industrial setting, such as overheating of equipment and filtering of dust and dirt from nearby surroundings and work area.
The volume of modifications is also a point to consider, especially for those who may need a larger supply of devices. Remember that custom parts may require more time to accomplish compared to pre-made ones.
Brian Luckman is the President of New Era Electronics. He has worked in the industrial OEM market for over 25 years, serving a variety of different industries, gaining a strong reputation for his expertise and a thorough understanding of how to properly service OEM customers. In 2000 he began New Era Electronics and the company continues to grow. He's a husband and father and enjoys exploring the outdoors.
Creative Commons Attribution: Permission is granted to repost this article in its entirety with credit to New Era Electronics and a clickable link back to this page.