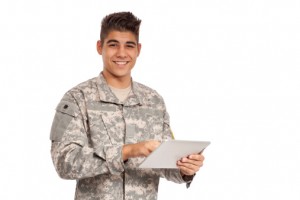 Evolving Military Computing through COM Express
Published on:

Published in:
Blog
There is a quotation about warfare that says "War never changes." The philosophical idea behind that statement may be correct, but in the realm of technology, it couldn't be farther from the truth. Military computing is constantly undergoing change. Technological breakthroughs and research into innovative solutions are always on the verge of becoming a reality. In pushing toward new ideas, a nation's military must utilize the latest advancements in embedded computer modules. The "golden rules "of this type of technology are to create:
a technically proficient machine, in both processing and graphical power
a device with low power consumption
It is a difficult set of boxes to tick, but the Computer on Module Express, or COM Express, standard fills and advances this need.
The application for COM Express boards is not meant to replace standard full size industrial PCs. That form factor must still be relied upon for heavy computing necessary at major operations bases. However, the usual size of a full motherboard prohibits powerful computing in a mobile setting; this is a problem that the COM Express standard solves.
COM Express and Technological Advancement
The COM Express standard has been around since 2005, but uptake on its usage has only recently become widespread. Most small form/mobile military technology in use today is built off of Qseven modules. This type of board is still quite useful for smaller based technology, as it can pump out a decent amount of processing power with low power demands. When comparing the Qseven standard to COM Express boards, major differences can be seen.
Firstly, on a pure component level, COM Express boards are able to have more computing power due to using higher end Intel® processors and integrated graphics. Current Qseven CPU boards, however, are limited to Intel® Atom technology, dual and single core devices due to a 12 watt maximum power consumption. Conversely, COM Express can have a variety of processors ranging from the Core™ 2 Duo to Intel's flagship Core i7 line boasting dual and quad core processors with speeds up to 2.8 GHz.
The base line of the comparison is that the COM Express will run military software and compute faster than the Qseven standard, while keeping around the same form factor and with new Ivy Bridge technology, it doesn't have to push the envelope on power consumption too much farther. Adding a higher number of connectors of USB, audio and video devices, the COM Express board definitely outshines the Qseven standard.
COM Express Upgrades Technology and Budget for the Better
Building devices for military usage can be an expensive undertaking, and cutting costs needs to be on the minds of all involved. Luckily, COM Express boards allow OEM's to save costs when putting together these specialized computers. Due to the use of a carrier board, these types of boards are easily interchangeable, allowing quick upgrades to newer and better components, or switches to an alternate manufacturer in a pinch. This swiftness makes upgrading current or legacy networks much simpler, rather than having to replace individual components.
Expectedly, current uptake of COM Express boards is spiking as military engineers become more accustomed to the platform. This standard seems poised to be the next advancement in the field due to its scalable, upgradable and powerful features while not breaking the bank.
Brian Luckman is the President of New Era Electronics. He has worked in the industrial OEM market for over 25 years, serving a variety of different industries, gaining a strong reputation for his expertise and a thorough understanding of how to properly service OEM customers. In 2000 he began New Era Electronics and the company continues to grow. He's a husband and father and enjoys exploring the outdoors.
Creative Commons Attribution: Permission is granted to repost this article in its entirety with credit to New Era Electronics and a clickable link back to this page.