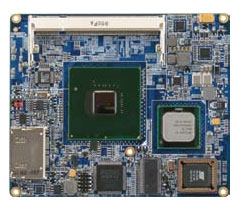 COMplementing the System: Applications of a COM Express Starter Kit
Published on:

Published in:
Blog
The time spent designing and implementing a motherboard for a product can be painstaking at best. Troubleshooting and deciding the exact specifications that an OEM's product will require can be the lynch pins for development, and in some cases, provide the most challenges for designers.
Many of the questions surrounding this process pertain to determining what kind of board will complement the overall design.
There are always choices, depending on the product's application. One such avenue is a COM Express module.
These small footprint modules hold a unique place within the embedded systems world. They fill a certain set of applications that necessitate a powerful and expandable motherboard that can handle the main component specifications. By taking care of this aspect, designers are free to focus on making the product do all that it possibly can via a custom designed carrier board. A COM Express module helps to simplify an OEM's design process through great tech and the addition of a starter kit.
COM Express Starter Kits: A Box of Possibilities
COM Express starter kit contains a sample ATX carrier board with a plethora of different I/O which designers can test for their uses. What this kit provides is the dual use as both an experimental test bed for an OEM to decide what best suits their product, as well as a hub for all of their basic design needs. On the testing side of things, they can start to spec out the ultimate size of the board, what controllers and I/O are needed, and what exact display outputs (if any) are needed for the final carrier board. Experimenting within a COM Express starter kit allows designers the flexibility to test their vision and explore new possibilities.
On the design side of things, everything is provided to the OEM. The COM Express starter kit comes with all of the necessary drivers, schematics, Gerber files as well as any other design files that are available for the OEM's specific use.
Manufacturers and COM Express Starter Kits
When it comes to COM Express starter kits, the manufacturer doesn't lose contact as soon as the kit leaves their factory. There is a definite standard of service that has been established with the COM Express Standard which has been widely adopted by manufacturers.
The manufacturer will go along, step by step, with the OEM in the design process. This even goes as far as the OEM having recourse to FAEs and being able to send in their final carrier board schematics to the manufacturer in order to get thumbs up before production.
When it comes to designing a carrier board, the manufacturers can pretty much do anything short of designing the carrier board themselves. However, if you do need a carrier board designed, any distributor tailored to OEM business can do that for you anyways.
Brian Luckman is the President of New Era Electronics. He has worked in the industrial OEM market for over 25 years, serving a variety of different industries, gaining a strong reputation for his expertise and a thorough understanding of how to properly service OEM customers. In 2000 he began New Era Electronics and the company continues to grow. He's a husband and father and enjoys exploring the outdoors.
Creative Commons Attribution: Permission is granted to repost this article in its entirety with credit to New Era Electronics and a clickable link back to this page.