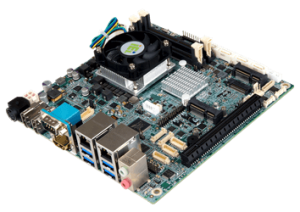 Call Me Haswell: The Newest CPU in Computer Components
Published on:

Published in:
Blog
If there is one thing you can bet on in the technology world, especially in computing, it's that the upcoming best component is always on the horizon. The constant march of progress has very little chance of stopping, which means that hardware manufacturers are always going to be thinking of the next revolution and "flashpoint" moment in computer components.
Intel has taken a significant stride in this direction with its new CPU microarchitecture named Haswell. This next step, a follow-up to the widely respected Ivy Bridge line of products, presents an upgrade across the board and spreads these boons to a completely different market: the mobile/tablet sector.
What does Haswell do for Computer Components?
These new CPU chips range from high end, super-powerful models to more stripped-down and conservative SKUs. Across the entirety of the line, there is an increase in the amount of processing power available to OEMs looking to outfit their embedded systems with an effective CPU. The major plus available through the Haswell chipsets, however, is not the amount of power it puts out, but the lack of power that it draws. Many of the Haswell chips are engineered to conserve more power, while still getting the right amount of work done.
What this design idea allows is the emergence of the Intel core processors to be more easily used in mobile embedded devices. One of the main challenges in creating a machine such as a panel PC or powerful tablet is the delicate balance between component power and battery usage. By utilizing the new computer components, such as Haswell, a device can last longer between charges, thereby increasing productivity for the end user. An additional benefit to less power consumption is a lower TDP resulting in less heat.
Industrial Computer Components and Availability
Another interesting thing about this particular line of computer components is the lead time on its availability. Usually the industrial sector does not see a new chipset or product line until well into its lifecycle. Being able to take advantage of the decreased introduction time means OEMs can work new technology into their designs. This means greater processing power and battery life for mobile devices that will find their way into the industrial sector.
Brian Luckman is the President of New Era Electronics. He has worked in the industrial OEM market for over 25 years, serving a variety of different industries, gaining a strong reputation for his expertise and a thorough understanding of how to properly service OEM customers. In 2000 he began New Era Electronics and the company continues to grow. He's a husband and father and enjoys exploring the outdoors.
Creative Commons Attribution: Permission is granted to repost this article in its entirety with credit to New Era Electronics and a clickable link back to this page.