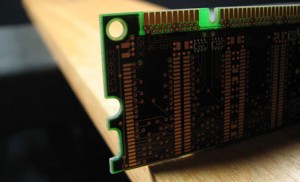 Built Tough: Use Cases for Industrial RAM
Published on:

Published in:
Blog
Can you put your mind in the same space as an engineer? Not only do people in this profession have to complete many years of schooling, but they are constantly thrown into problematic situations requiring ingenuity to solve. It's essentially a vocation filled with problem solvers; people who look at an issue and use their knowledge and the technology available to them to come up with a new way forward.
In the industrial world, the main focus of the technology is often efficiency in the harshest environments. Resolving this issue presents an interesting problem for makers of embedded systems.
When it comes to embedded systems, using optimal components is absolutely necessary to creating a functional machine. There are numerous off-the-shelf components within the commercial market that could theoretically be used. A CPU that powers a consumer PC can certainly be used within industrial computers; however, it may not be able to function at its peak efficiency because of the environment in which it is placed. Even more importantly, it likely won't be supported for the full lifecycle of the product it will be placed in, whereas embedded CPUs are (they typically have a lifecycle of 5-7 years).
Components, such as industrial RAM, have particular use cases because they fill a more specific niche in computing. When the demands of the market reach beyond the consumer grade, industrial components take up the cause.
Who Uses Industrial RAM?
This question is far reaching, but it champions the universality of industrial RAM. The main reason for using this style of component is to counteract one of the major issues of embedded computing, which is heat generation. Many of these machines operate either in extreme climates and environments or have lengthy operation times that could overheat components within the device if they are not graded properly.
All one has to do is look at the many devices used in the military market to see the need for this component. Industrial RAM, also known as wide temperature RAM, is rated to handle these more extreme conditions. This component type can handle heat up to 85 Celsius, well beyond any commercial product.
Industrial RAM: Key Factors to Look For

There are some defining features to look for when deciding which type of industrial RAM to stock:
Low power consumption: Much of the heat generated by internal components comes from their power draw. Look for the type that fits your computing needs, but stays low in consumption rates.
Conformal Coating: In order to be certain that the components do not fall prey to foreign particles such as dust an moisture, it is recommended that the memory has a conformal coating.
Vibration protection: As noted in an earlier blog, vibration can damage your internal components unless there is a form of protection in place. High quality industrial RAM will have measures to protect the connectors and onboard chips.
Brian Luckman is the President of New Era Electronics. He has worked in the industrial OEM market for over 25 years, serving a variety of different industries, gaining a strong reputation for his expertise and a thorough understanding of how to properly service OEM customers. In 2000 he began New Era Electronics and the company continues to grow. He's a husband and father and enjoys exploring the outdoors.
Creative Commons Attribution: Permission is granted to repost this article in its entirety with credit to New Era Electronics and a clickable link back to this page.