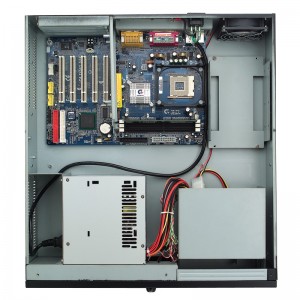 Barebone Systems: About the Basics
Published on:

Published in:
Blog
An economical way to acquire a working PC is to buy a barebone computer system. Simply put, barebone systems are partially-built computers with only basic components and parts included. Barebone computer systems come with varying components, on top of the chassis, depending on the distributor and the level of customization desired.
Generally, barebone systems will include a motherboard, a power supply unit and a case. Other packages, however, may contain additions such as an optical drive and keyboard, or various other combinations of components.
A barebone system allows for more customization than a fully completed, off-the-shelf system, while requiring less assembly and customization than a fully custom system, put together from various parts.
Advantages of Barebone Systems
One major advantage of a barebone system is the time-saving quality when it comes to the assembly procedure. Barebone systems are easier and quicker to assemble than when all parts are purchased separately.
The ability to choose the computer parts is also an upside to going with barebone systems. Simply purchase whatever additional components you'd like included in your system from among a vast choice, depending on what is available and necessary for your own computer's purpose.
Limitations to Barebone Systems
There are also some limitations to consider.
For some, the most obvious disadvantage would be the assembly procedure. Compared to buying a complete and fully assembled computer system, barebone systems do require some basic assembly, along with the time and facilities to do so. However, this can be remedied by having the distributor assemble the device if they offer that service.
While a barebone system offers more customization that an off-the-shelf completed system, it does offer significantly less customization than a completely custom system. So if you require a small form factor machine, you may not find all of the specs that you are looking for in the available barebone systems. And if you want an ODM board, then you're definitely going to have to go for a completely custom machine.
Are Barebone Systems Right for You?
Barebone systems are not for everyone, but they do have their advantages, particularly for those who need some customized features, without having to mix and match a system from scratch. The best way to find good barebone systems is to consult with a reliable distributor for recommendations as to what they can provide to suit your individual computing needs.
Brian Luckman is the President of New Era Electronics. He has worked in the industrial OEM market for over 25 years, serving a variety of different industries, gaining a strong reputation for his expertise and a thorough understanding of how to properly service OEM customers. In 2000 he began New Era Electronics and the company continues to grow. He's a husband and father and enjoys exploring the outdoors.
Creative Commons Attribution: Permission is granted to repost this article in its entirety with credit to New Era Electronics and a clickable link back to this page.