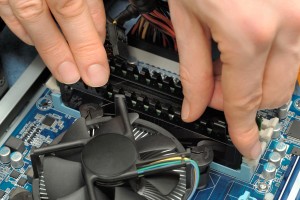 A Custom Build Computer Hobby Could Kickstart Your Electronics Career
Published on:

Published in:
Blog
Some of the greatest innovations of our time have occurred because of people studying and customizing computers. The late Apple CEO Steve Jobs built his first personal computer from spare parts sent by William Hewlett of Hewlett & Packard. Or when creating the first Star Wars movie, the team at Industrial Light & Magic had to custom build a computer to process all the special effects that had never been created before, and spawned an empire.
The IT industry is filled with people who have followed a similar path from custom build computers in a casual environment to industry leaders.
Who knows? Your studies in IT combined with your experimenting with custom build computers could provide the kickstart to your own incredible IT career.
Innovation Begins Through Education
A formal education is an important stepping stone in custom build computing and IT development, especially given the complexity and ever-changing nature of technology today. Local universities, technical colleges and specialized schools have many programs in the  fields of computer diagnosis and repair, programming, networking and network administration, Internet technology, and so on.
Research Combined with Innovation Can Outline Future Trends
If you run a computer repair business from your home, you are no doubt well experienced at (1) researching current trends, (2) understanding limitations with current hardware, and (3) experimenting with solutions. Innovative repair/upgrade techniques and custom build work will hone your craft and expertise. This is often exactly how new IT breakthroughs – and thus careers – are created. Your home-based business may be fairly low return (most are), but you may not know that some of your self-developed techniques could be just what an IT employer is looking for. And don't forget that the custom build computer field extends into the rapidly growing market of wearable technology, home automation, even robot manufacturing.
Shop Around for Quality Custom Build Components
Due to the large discrepancy in component quality, it's imperative that buyers shop with reputable providers of products for their custom build computers. The leading brands like Intel usually offer the best performance for the price. Buyers should also consider the types of warranty and life cycle they receive for their components. The success of a project or business can be limited by one component's malfunction or obsolescence.
The Future of Computing Depends on Innovators Working with Custom Build Computers
For industrial and retail sectors, so many innovations are always in the pipeline, and custom build computer technology is a driving force. Nano-computing systems and components, for example, are a rapidly growing sector. The challenge is always on to assess their performance and drive greater integration with current operating systems. This is the type of innovation that is leading towards the fully automated factory, for example, incorporating ultra-fast sensors that provide real-time information via high speed networks. New diagnostic systems will be a huge factor in this field.
And… this type of cutting-edge architecture so often begins with someone working on a custom build computer from home or sitting in a college class.
Brian Luckman is the President of New Era Electronics. He has worked in the industrial OEM market for over 25 years, serving a variety of different industries, gaining a strong reputation for his expertise and a thorough understanding of how to properly service OEM customers. In 2000 he began New Era Electronics and the company continues to grow. He's a husband and father and enjoys exploring the outdoors.
Creative Commons Attribution:  Permission is granted to repost this article in its entirety with credit to New Era Electronics and a clickable link back to this page.