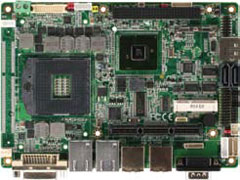 A Closer Look at the EPIC Motherboard Standard
Published on:

Published in:
Blog
Industrial computing is a constantly growing market and one that doesn't seem to slow down for anything, and this means that there is always a growing need for new innovations within the sector. The mantra of "small, cool running and powerful" seems to be driving some of the options behind creating new standards for embedded systems. There are tough decisions to be made on the technical specifications, but in 2004 a great breakthrough was made.
Enter the EPIC motherboard standard. A grandiose-sounding name, perhaps, for what is essentially a mid-sized embedded board. It does not have the largest board space, nor does it pump out the most processing power. It cannot match up to the larger ITX boards for I/O capabilities, but then again, it doesn't need to. The EPIC standard fits a particular niche, one that fits in nicely between two older standards and provides the best of both worlds.
The EPIC Motherboard and Combining Specifications

This motherboard standard did not come out of nowhere. A consortium of manufacturers and designers looked at the older PC/104 and EBX boards and realized that there was something missing. There already existed the small, stackable embedded board in the PC/104, more attuned to handheld/low power devices. The other end of the spectrum featured the EBX standard, boasting a whopping 46 squared inches of board space housing multiple I/O zones and expansion capabilities. The two ends of a small spectrum were filled, but there needed to be something in the middle.
What an EPIC Motherboard Brings to the Table
An EPIC motherboard fits nicely between these two board types with its 4.5 x 6.5 inch size and mid-range capabilities. The extra space afforded to the EPIC standard lets it tackle some of the same workload that multiple PC/104 boards handle, while utilizing less space. In addition, current boards offer support for multiple processing chipsets which can slotted into an EPIC motherboard, ranging from the likes of Intel's QM57 to AMD's multi-core offerings.
Much like the EBX standard, the EPIC motherboard has plenty of room for expansion via numerous USB and digital I/O ports. This allows the standard to fit many different uses, ranging from telecommunications to digital signage or gaming kiosks. Being a mid to small ranged form factor means that its enclosure does not need to be bulky and can be more mobile.
Brian Luckman is the President of New Era Electronics. He has worked in the industrial OEM market for over 25 years, serving a variety of different industries, gaining a strong reputation for his expertise and a thorough understanding of how to properly service OEM customers. In 2000 he began New Era Electronics and the company continues to grow. He's a husband and father and enjoys exploring the outdoors.
Creative Commons Attribution: Permission is granted to repost this article in its entirety with credit to New Era Electronics and a clickable link back to this page.