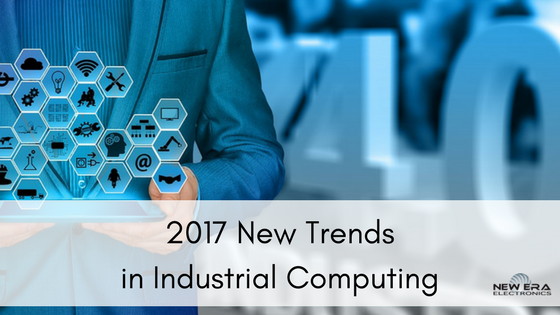 2017 New Trends in Industrial Computing
Published on:

Published in:
Blog
The predicted 2017 trends in industrial computing will see the emergence of amazing technology designed to improve efficiency across many market sectors. Get on board with this wave now.
Cloud Computing Taking Off in New Ways
Cloud computing is set to have a greater influence on how data is managed and distributed in 2017. There will be big growth in the trend towards industry-specific clouds. This will be driven by the demand for cloud computing that is decentralized and configured to suit the needs of individual industries. 
In November 2016, the International Data Corporation (IDC) released a report on its predictions for IT in 2017:
67% of offerings for enterprise infrastructure and software will be cloud-based by 2020.
By 2018, 60% of IT will be done off-premise in the cloud.
By 2020, increased security in cloud computing will provide a permanent home for trusted IT services.
Today, there are established industry-specific clouds in several vertical markets, like healthcare, finance and insurance. In 2017, the IDC predicts that 75% of Fortune 500 companies will supply digital services through industry-specific clouds.
The Rise of Demand-driven Manufacturing
Demand-driven manufacturing is a methodology based on actual demand for product, rather than a forecast. It incorporates the principles of lean manufacturing and constraints management to improve production flow, reduce lead time, eliminate waste and improve delivery.
Synchrono, a supplier of demand-driven software, has predicted that there will be a rise in the implementation of this technology for industrial computing in 2017. This will have a significant impact on process automation, supply chain management, real-time communication, cloud computing and management of data to enable smart decision making.
Major Growth in Cognitive Computing
The rapid growth of cognitive computing will enable computers to interact with us in human-like ways. Leveraging artificial intelligence, cognitive computer systems will have a huge impact in industry, business and government.
It's predicted that cognitive computing technology will transform the way we go about our daily lives. It will help companies to improve business efficiency and performance, while enhancing customer experience through automation and real-time delivery of information.
Many industries rely heavily on data drawn from various sources to make critical business decisions. Cognitive computers will have the ability to collate and analyze all this data, and make informed decisions based on input from human interaction.
IoT Trends in 2017
Implementation of IoT technology will accelerate in 2017. Instead of rolling out platforms for horizontal application, emerging IoT technology will focus increasingly on serving vertical markets.
As is the case with cloud computing, IoT technology vendors will be expected to fill the specific and customized needs of individual industries. This demand will, in turn, drive the development of new and more powerful IoT analytic algorithms to serve each industry.
The adoption and implementation of new technology for industrial computing is proceeding at a rapid pace. Is your company ready for the challenges that lie ahead? Contact an experienced developer of custom computer systems to assist you to take advantage of these trends and maintain a competitive edge in your market.
Creative Commons Attribution: Permission is granted to repost this article in its entirety with credit to New Era Electronics and a clickable link back to this page.